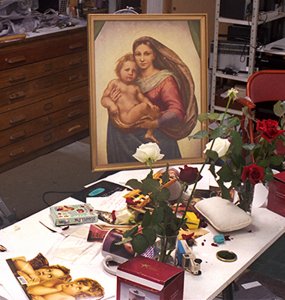 Monica Ross studio: detail with valentine artefacts
MONICA ROSS: valentine
28 November – 20 December 2014


Private View: Friday 28 November 6 – 8.30
   

Monica Ross (1950–2013) was among the most significant British feminist artists of her generation and made important contributions to performance practice, art education, critical writing and the relationship between art and politics. Her career began in the 1970s, when feminism and related movements for social change shaped her experimental and often collaborative practice. Her performances, videos, drawings and text-works are time–based in form and subject, and investigate how experience is transformed into memory and history.

This exhibition opens on the same day as a symposium at the British Library to celebrate Monica Ross's life and work, and the Library's forthcoming acquisition of her digital archive.

The focal work in this exhibition is an installation of the collected artifacts that inform Ross's artist's book valentine. A related film of a studio performance in which Ross unpacks the inventory of objects will be screened, and the exhibition includes an archival display of her sketchbooks and notebooks, with a selection of her artist's books, often palimpsest-like transcriptions from the essays of Walter Benjamin.

The initial trigger for valentine came from Ross's first encounter in Dresden with Raphael's The Sistine Madonna. After her immediate, passionate response to the painting, she subsequently found that others had also had similarly strong reactions to the work: for example, Sigmund Freud's patient Ida Bauer was evidently "immobilized before the Madonna for two hours".

In his review in Art Monthly of Ross's artist's book valentine, Clive Phillpot described how "political and historical events, psychiatry, feminist theory and the experience and love of art inform the whole work." He pointed out how "after her overwhelming experience of the original painting, Ross quickly noticed how ubiquitous the image of the Sistine Madonna had become, especially because the owners of the copyright of the image have exploited it commercially…. One detail of the painting showing two cherubs resting on their elbows at the bottom edge of the picture has been so successfully promoted that Ross and her friends have tracked down innumerable instances of its use in every kind of context, especially in packaging and decoration. This misrepresentation and degradation of the original painting cause the artist to invoke the ideas of Walter Benjamin" - in particular, his essay on 'The Work of Art in the Age of Mechanical Reproduction'.

Monica Ross studied at Reading University and first came to prominence in the 1970s as a Feminist artist and organizer co-responsible for pioneering collective initiatives that evidenced the conditions and constraints of the working class female artist: "These women are fighting isolation, inventing a women's art. The aim is communication not perfect aesthetics." These collective projects included the Women's Postal Art Event— Feministo: Representations of the Artist as Housewife at the ICA, London in 1977, and the touring project Fenix (1978-80) which made studio practice public by appropriating galleries as workspaces and was included in the Issue exhibition curated by Lucy Lippard and Margaret Harrison at the ICA, London in 1980. Ross then co-established the Sister Seven group which operated as a national network for the distribution of poster art and performances in church halls, libraries, on the streets and at peace camps including Greenham Common.

Monica Ross curated exhibitions, published critical essays and text works and was Senior Lecturer in Fine Art, Saint Martins School of Art, London 1985-1990 where she then led the innovative Critical Fine Art Practice course from1990 to 1998. Ross was Guest Professor at Institut für Kunst in Kontext, Universität der Künste, Berlin 2004, and an AHRB Research Fellow in Fine Art at the University of Newcastle 2001-2004. In 2008, to mark the 60th anniversary of the Universal Declaration of Human Rights, Ross performed the first of 60 recitations in her series 'Anniversary—an act of memory: solo, collective and multi-lingual recitations from memory of the Universal Declaration of Human Rights'.


Tuesday – Friday 11 – 6     Saturdays 1 - 5

Contact the gallery for images and further information.

______________________________________________________________