Klaus Friedeberger
1922-2019
< BACK
Klaus Friedeberger (1922–2019) was born in Berlin and arrived in England aged 16, five months before the outbreak of the Second World War in 1939. The following year, he was caught up in the indiscriminate internment of refugees from Germany and Austria and, after being arrested and held briefly in camps in England, was transferred to Australia aboard the troopship Dunera.
The internees on the Dunera included artists, musicians and intellectuals, and the young Friedeberger was able to continue his education in art and music during the voyage and later when he was interned in a camp at Hay in Australia. Among the distinguished internees who gave lectures and organized classes on board ship and in the camp were the sculptor Heinz Henghes, the surrealist painter and film and stage designer Hein Heckroth, and the photographer Helmut Gernsheim. Ludwig Hirschfeld Mack, who had taught at the Bauhaus, gave classes in colour theory, and art history classes were held by Ernst Kitzinger and Franz Philipp.
During his two years of internment, Friedeberger produced watercolours and drawings, mainly studies made around the camp and some portraits, together with Surrealist-inspired compositions, posters and scenery designs for stage productions in the camp. In 1942 he was able to join the Australian military forces in a labour unit especially created for former internees. When based for a period in Melbourne, he painted in his free time and made contact with Australian artists, including William Dobell, Arthur Boyd and Sidney Nolan.
Friedeberger exhibited publicly for the first time at the Contemporary Art Society of Melbourne in 1944. His paintings, drawings and monotypes reflected his wartime experiences, although some works made in Melbourne were more allegorical in subject. He became increasingly concerned with using colour, and in 1946 began a series of paintings of children at play, a subject that was to occupy him over the next twenty years.
After being demobbed in 1947, Friedeberger studied at East Sydney Technical College where he developed long-term friendships with fellow students Tony Tuckson and Guy Warren (with whom he spent seven weeks hitch-hiking half-way around Australia). After gaining his painting diploma at the end of 1949, Friedeberger left Australia in May the following year, returning 'to see the art of Europe'; the intended return to Australia never happened.
Friedeberger's travels in Europe were alternated with periods living and working in London. He worked in advertising and graphic design, and taught part time at the Central School and at the London College of Printing. In the 1950s and early 1960s he exhibited with Australian artists working in Europe, in exhibitions such as the traveling exhibition Australian Painting and Sculpture in Europe Today, and critics commented on his use of bright colours and his 'slightly alarming children at play'.
In July 1963, Annely Juda opened her new Hamilton Galleries in Hanover Square, London with Friedeberger's first one-man exhibition, and throughout the 1960s he was included in various group shows in London, Belfast, Manchester and Oxford. A new series of works on the theme of guide and visitors was inspired by an extended visit to Italy, and was worked on in parallel to the children at play. He began to move away from his use of intense colour, and produced works that were increasingly monochrome, with the figurative elements becoming less prominent. In 1967 he exhibited three of these transitional paintings with Annely Juda.
By the end of the 1960s, Friedeberger was making almost wholly abstract works, and while they evolved, he exhibited rarely except for occasional contributions to group shows. The exhibition Three Decades of Contemporary Art at the Juda Rowan Gallery prompted John Russell Taylor to write in The Times: '...one would be glad to hear more of Klaus Friedeberger.' It was not until 1986 that a substantial selection of his new works were shown at the Warwick Arts Trust. A solo exhibition in London was followed by a retrospective exhibition at Woodlands Art Gallery, Blackheath in 1992.
In 1993, the National Gallery of Australia in Canberra selected six of his works from the 1940s for the touring exhibition Surrealism in Australia, and three of these works were purchased by the museum. In 1997, another Australian National Gallery exhibition, The Europeans: Emigré Artists in Australia, 1930-1960 also featured Friedeberger's works from the 1940s. In the latter part of his life, Friedeberger lived and worked in London and his work is represented in the collections of the British Museum, London; the National Gallery of Australia, Canberra; the University of Wollongong Collection, NSW; the Agapitos/Wilson Collection, Sydney; as well as private collections in Europe, America and Australia.
Illustrated catalogue available.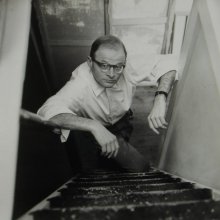 Klaus Friedeberger in his Chelsea studio, c1962
Photograph by Julie Friedeberger