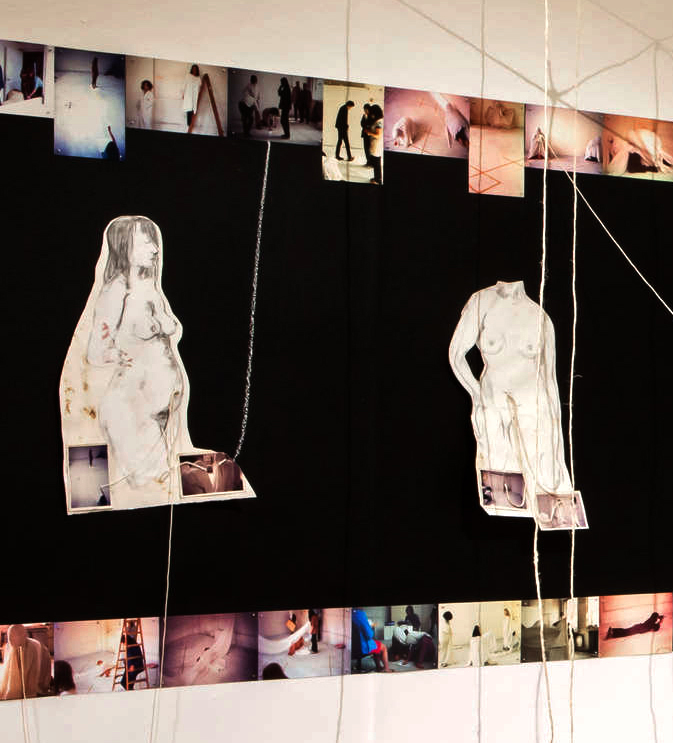 Anne Bean and The White Room
Sit-in #2: To Be Potential
Cooper Gallery
Duncan of Jordanstone College of Art, Dundee
3 December 2021 – 19 February 2022
Hatton Gallery, Newcastle University
5 March – 21 May 2022
This exhibition and event project navigates and extends experiments in art education and alternative educational initiatives from the early 20th century to the present.
One of several featured projects, 'The White Room' experiment, was instigated by artist and tutor Rita Donagh with a group of students at the Fine Art Department at Reading University in May 1970. At the centre of the experiment was a consideration of the figure of the life model, and a question of what could happen in a 'life room' at a time when art education was subject to radical changes.
The White Room/Drawing Life (1970), a series of collage works from 'The White Room' by Anne Bean, together with reconstructed elements and ephemera, is accompanied by a newly commissioned audio work The Ballad of the White Room by Anne Bean, Graham Challifour, Rita Donagh and Rod Melvin. 
Anne Bean: Elles x Paris Photo
November 2021 and continuing online
Anne Bean has been selected for Elles x Paris Photo. For this edition in 2021, Nathalie Herschdorfer, an art historian and curator specialising in the history of photography, spotlighted a selection of works – both online and at Paris Photo itself – by women artists and the galleries that support them.
Elles x Paris Photo is a programme initiated in 2019 in partnership with the French Ministry of Culture and supported by Women In Motion, a Kering programme focused on women artists and their contribution to the history of photography.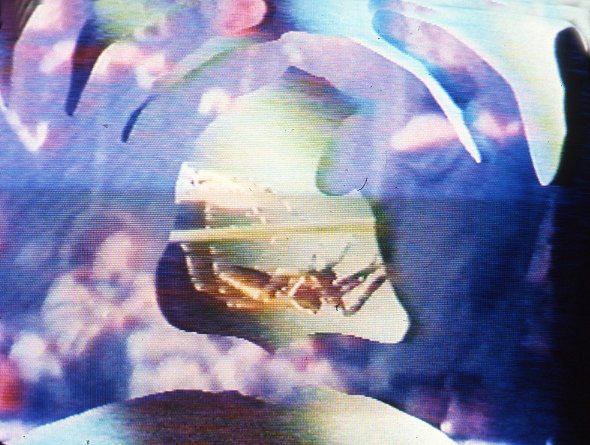 Tina Keane: In Our Hands, Greenham
15 – 24 October 2021
Studio Voltaire, London
Tina Keane's In Our Hands, Greenham will be screened at Studio Voltaire as part of Conal McStravick's project, Desperate Living: Queer Care Camp that aims by generating "collaborative outcomes and public events, the project will explore how past, present and future care can provide tools for our current social, political and ecological crises, and hopes."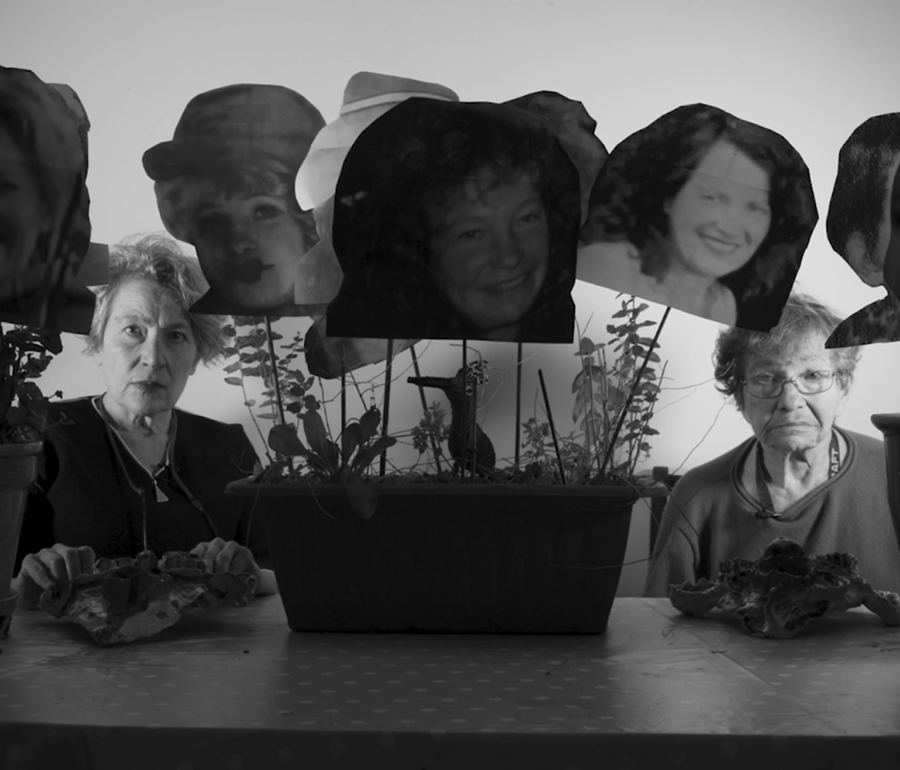 The Light of Day: Anne Bean/Alex Eisenberg
3 October 2021 
LUX, Waterlow Park Centre, London 

A special screening was held of The Light of Day, a unique collaborative film celebrating the life-long friendship of artists Anne Bean and Jeanette Iljon. Presented by LUX, the film is a "series of tender exchanges between life long friends Jeanette Iljon and Anne Bean. Born eleven days apart to Jewish families in Zambia in 1950, they both went on to become artists in the UK. The Light of Day carefully recomposes Iljon's experimental, feminist and social activist film works made in the 1970s/80s. It combines these with an almost lost interview, shot by Anne Bean in 2000 and new performance material that was made with Alex Eisenberg in 2019 following Iljon's diagnosis with dementia."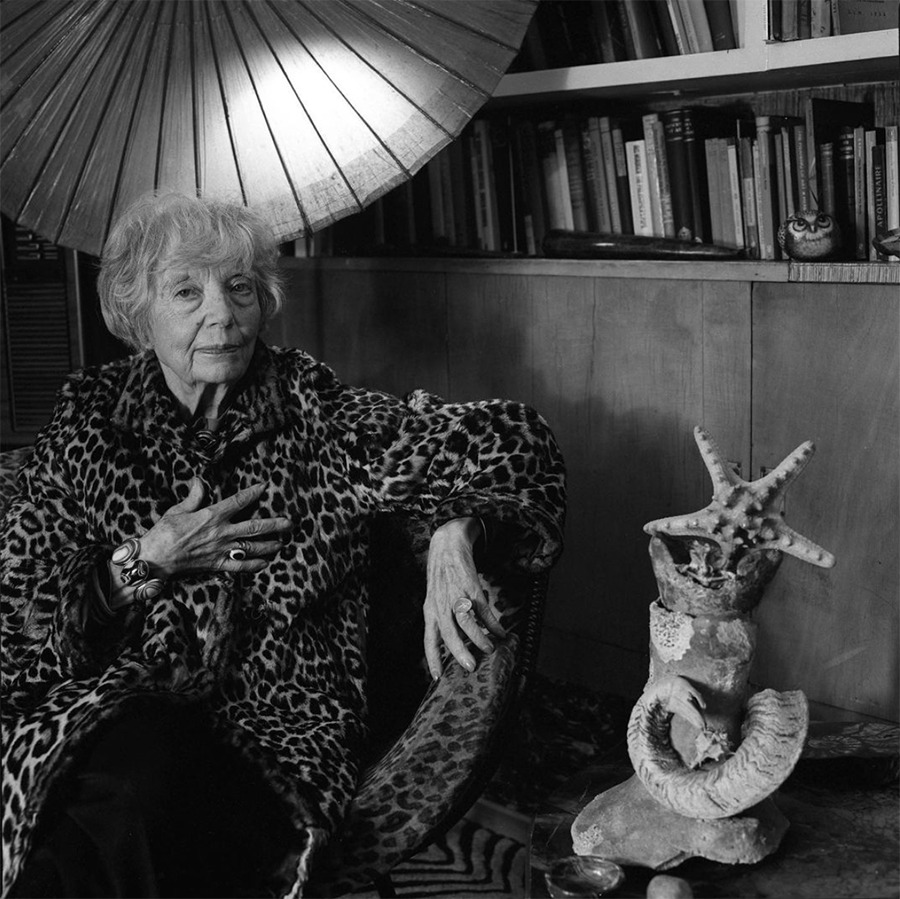 Photographs of Eileen Agar by Jane England
Until 29 August 2021
Three photographs by gallery director Jane England are on display at the Whitechapel Gallery in a complementary section of Eileen Agar's retrospective exhibition (alongside other photographers' images and a film). The photographs were taken at Agar's studio and home in West House, Melbury Road, Kensington, where she had lived since the late 1950s. The exhibition, Eileen Agar: Angel of Anarchy ends on 29 August 2021.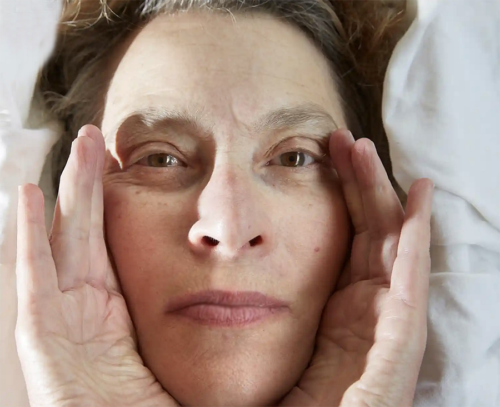 Anne Bean interview in The Guardian
18 August 2021
In this interview in The Guardian, Anne Bean has been revisiting her past: on 21 August, the pioneering performance artist is taking part in a 10-hour "durational live event" as part of PSX: A Decade of Performance Art in the UK. This required her to look back on five decades of practice – her past work, she says is "intimately linked" to her present – and takes place at The Ugly Duck event space in Bermondsey, not far from the Butler's Wharf studio where Bean worked from the mid-1970s to the mid-1980s.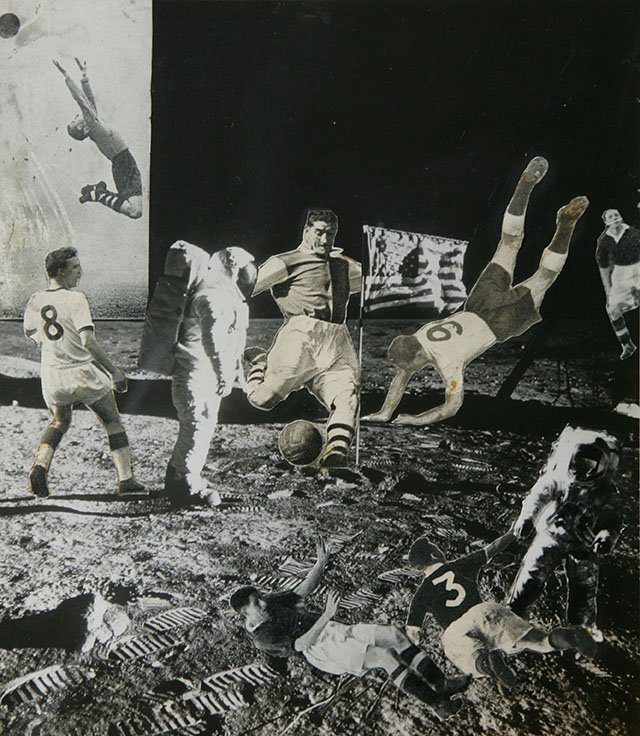 Vale Michael Horovitz OBE (1935-2021)
8 July 2021
Michael Horovitz OBE, who died yesterday (7 July), was a poet, jazz troubadour, visual artist, the founder and editor of New Departures (1959 onwards) and organiser of the live Jazz Poetry SuperJams and Poetry Olympics festivals. He was a legendary long-term resident of Notting Hill and the coming of Spring in W11 was heralded most years by Michael out and about in the neighbourhood resplendent in in his favourite floral shirt.
In 1989, England & Co held a memorable solo exhibition of his work at their first gallery space, and published a catalogue with Michael, Michael Horovitz: Bop Paintings, collages & picture-poems, 1962-1971. The catalogue cover featured his large painting A Postcard from Ireland, a work that was accompanied at the private view by an extraordinarily energetic perfomance of his poem of the same name – an excerpt: "Behold out of nowhere a message emblazoned across the sky / 'Guinness for strength' / The complete angler is silent / Bringing his catch of a lifetime to land / Only these words are incumbent upon him / But the giant fish as it leaps from the stream / Gut curdles / Its death throes / From the end of the line".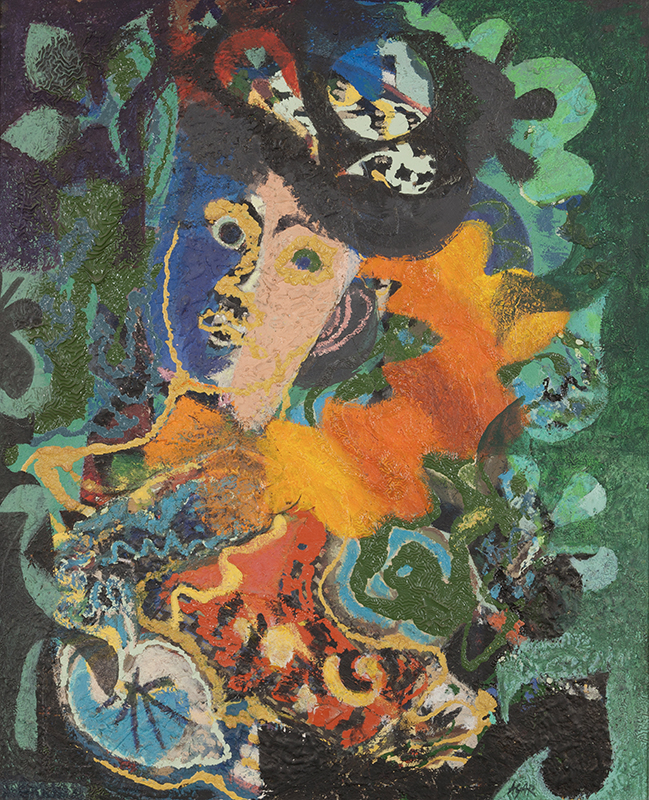 Eileen Agar: Angel of Anarchy 
19 May – 29 August 2021
Whitechapel Gallery
England & Co were pleased to arrange the loan of Portrait of the Artist's Mother – a major painting from the 1940s by Agar, which the gallery sold to a private collection some years ago – to the retrospective exhibition, Eileen Agar: Angel of Anarchy at the Whitechapel Gallery, London.
This is the largest exhibition ever of her work to date and traces Agar's "ground-breaking career from the 1920s to the 1990s. From early works influenced by her teachings at the Slade, through her experiments with Cubism and her inclusion in the 1936 International Surrealist Exhibition, to her later compositions of lyrical abstraction, Eileen Agar: Angel of Anarchy features over 150 works… reveal[s] Agar as one of the most dynamic, bold and prolific artists of her generation, which included friends André Breton, Gertrude Hermes, Dora Maar, Lee Miller, Paul Nash and Man Ray."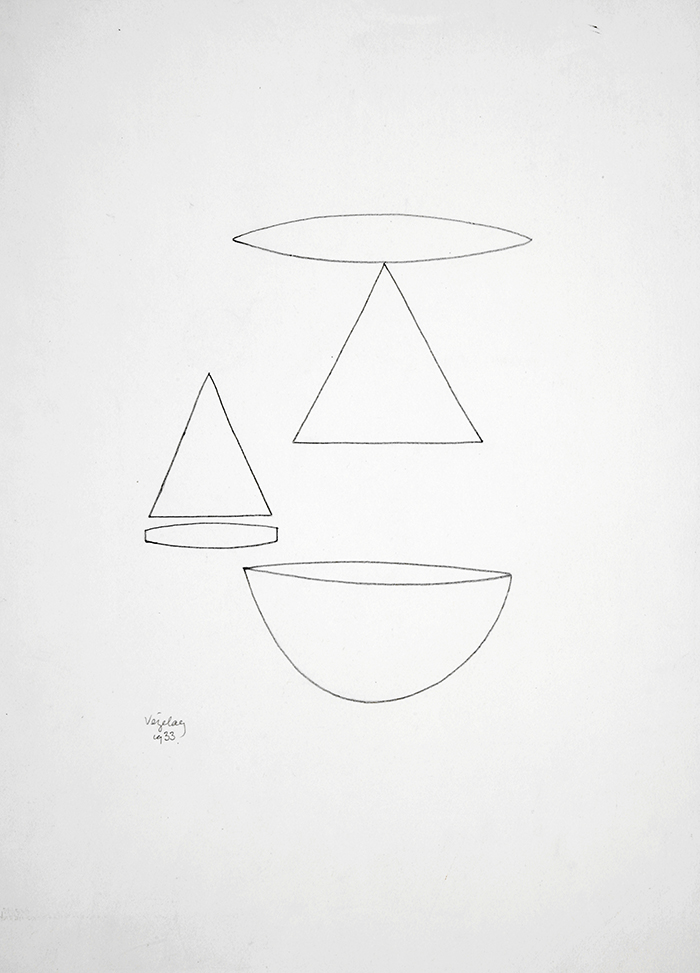 Paule Vézelay and Louise Hopkins in Glasgow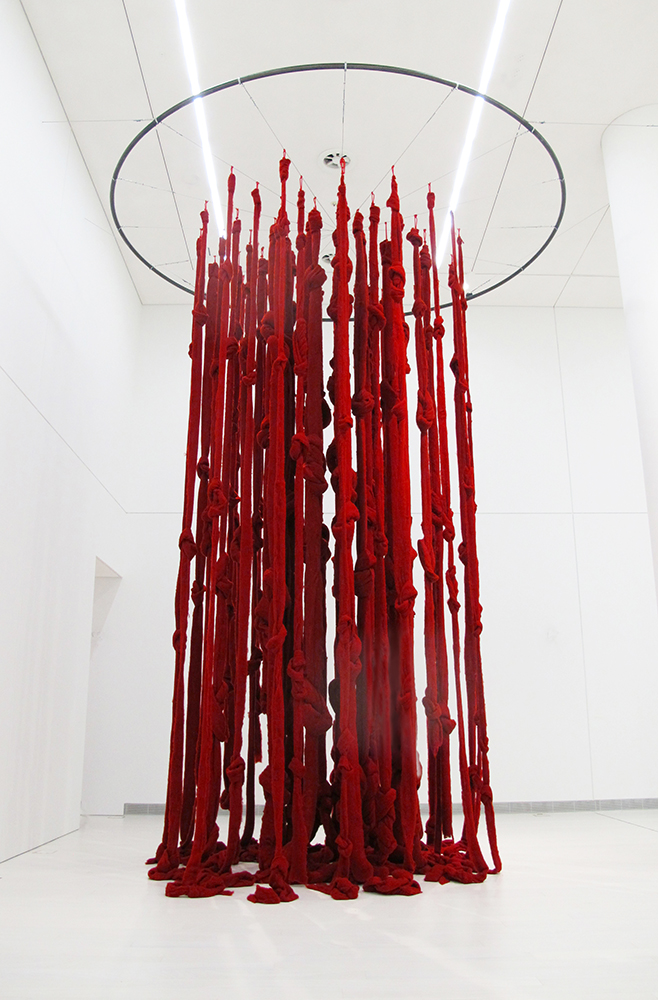 Cecilia Vicuña quipu acquired by Tate
17 May 2021
England & Co is delighted to announce the acquisition by Tate of Cecilia Vicuña's monumental work Quipu Womb (The story of the Red Thread, Athens), created for documenta 14 in Athens in 2017. Now installed at Tate Modern, the acquisition was generously supported by the Tate Americas Foundation, Latin American Acquisitions Committee.
Cecilia Vicuña (born 1948, Santiago, Chile) is a poet, artist and filmmaker who has moved between Chile and New York for over four decades. Her practice draws from 'indigenous weaving practices, ritual, and environmental activism'. Vicuña's quipus are installations she creates from strands of raw, dyed wool, referencing the ancient Inca and Andean communication system of knotted cords. Vicuña has described Quipu Womb as a 'poem in space'.
Quipu Womb (The story of the Red Thread, Athens), documenta 14, Athens 2017. Photograph © Jane England, England & Co.