Elisabeth Collins
1904-2000
< BACK
Elisabeth Collins once explained her somewhat episodic painting career by asserting that 'living and people come first'. Her marriage to a fellow artist, Cecil Collins, entailed her loving gift to him of much of her time and energy for the 58 years they were together: he acknowledged her as the inspiration of his life and work, the Lady and the Angel in his paintings.
Born in the West Riding of Yorkshire, where her father was editor (and later Chairman) of the Halifax Courier, Elisabeth Collins grew up with her brother and two sisters in a comfortable, privileged world. She said that 'in those days people really wanted their daughters to stay at home and do the flowers, then marry the local mill-owner'.

She overcame some family opposition to become a sculpture student at Leeds School of Art before going on to continue her sculpture studies in London. She met Cecil Collins soon after starting at the Royal College of Art in the 1920s, and they were married as students in 1931. They moved to the country, first to a simple cottage in Buckinghamshire where Elisabeth fetched their water from a well and Eric Gill was one of their neighbours. Years later she recalled: 'We only had £5 a week, which was my allowance from my parents. It was enough if you lived in obscurity, and we preferred it that way... Living the way we did had real quality.'
The Collins' met the American artist Mark Tobey in 1936, and were invited by him to come and live near the idealistic community founded by Leonard and Dorothy Elmhirst at Dartington. Dartington, like the Cornish School in Seattle, aimed to provide an opportunity for a co-ordinated study of all the arts - music, dance, theatre, drawing and painting. Elisabeth and Cecil made many friends and gradually became more involved with the community. At the outbreak of the War they moved to Dartington itself, where Cecil became director of the Art Studio Workshop after the internment of the German artist and designer Hein Heckroth.
This was a significant and productive period of their lives. For Elisabeth, the communal pooling of domestic chores like cooking and washing released time for her to paint, encouraged by Tobey and his innovative drawing classes. Tobey believed that by making an effort to express their ideas on paper, his students were 'freeing' themselves, 'opening up great powers for living the life of the artist within us all'. Elisabeth responded with an outpouring of magical gouaches and drawings - naïve, yet sophisticated and strangely charming. Her pictures depicted a colourful, dreamlike world, once described as being from 'the Eastern European fairy-tale province of her imagination'. It was an image in one of Elisabeth's early drawings, The First Fool, that inspired Cecil Collins' great series of works on the theme of the Fool - to him a symbol of 'purity of consciousness'.
In 1943 the Collins' left Dartington, and moved to Cambridge, where Elisabeth occasionally exhibited some of her gouache paintings under the name 'Belmont' as a way of keeping her work independent of Cecil's growing reputation. His 1944 London exhibition at the LeFevre Gallery had received great acclaim, and his seminal essay The Vision of the Fool, was published in 1947.
In 1951 Cecil Collins was offered a teaching post at the Central School of Art in London, and for many years travelled from Cambridge several days a week. Later he and Elisabeth moved to London, where they shared a house in Chelsea with the writer and poet Kathleen Raine - Elisabeth and Cecil lived in their own top floors of the house for the rest of their lives. Their home became a focus for a wide circle - composers, writers, poets, artists, and Cecil's students and admirers. Cecil painted in the studio room below, while Elisabeth worked on their dining table, making small drawings and gouaches on scraps and fragments of paper she had saved; and writing letters in her distinctive idiosyncratic handwriting (always in red ink).

After Cecil's death in 1989, Elisabeth began to use a corner of his studio, keeping her numerous small works in progress hidden under a piece of cloth. Often she would find an early drawing or watercolour and start to work on it again many years later, saying that she now knew what was wrong with it. She would often put a work which she was still thinking about into a frame and hang it on the stairs for a time, 'to wait and let colours settle... often all sorts of things emerge.'
The years on her own became a period when Elisabeth produced a substantial amount of her small-scale gouache paintings: colourful, poetic fantasies, imbued with a quirky wit. Even in her eighties and nineties, when she had developed a slight tremor, and drew and wrote with an almost quavering ink line, this became part of their charm. She was still able to make a face come alive and express a variety of emotions with a few incisive ink lines over the layers of watercolour and gouache. She said that 'in each face, you strike what is the chief message or feeling, as you do when you're talking to people. It's important to keep clear the channels of understanding.' She sometimes talked of 'the kind of painting I feel sympathy for - the wonderful luminous quality of Redon', and there are some affinities in her work with the Russian folkloric art of Chagall, Larianov and early Kandinsky.
In 1989 Elisabeth had an exhibition at the Albermarle Gallery to coincide with Cecil's Retrospective at the Tate - a double celebration of their life and work. In 1996 her exhibition at England & Co led to the acquisition of four works by the Tate Gallery, which gave her great pleasure, although she was characteristically modest about it. A memorial exhibition, Elisabeth Collins 1904-2000: Works from the Studio, was held at England & Co in 2002.

Jane England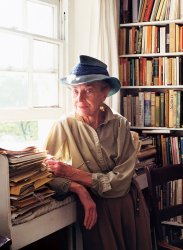 The artist at home in Chelsea, 1996.
Photograph by Jane England