Michael Buhler
1940-2009
< BACK
'I left the Royal College of Art in 1963 but it was not until 1965 that I really found a clear direction of my own,' writes Michael Buhler. 'The theme of figure in landscape inspired by Poussin, Keith Vaughan and Francis Bacon became the basis of my subject matter. The current movements of the mid '60s influenced me, Pop art, optical art and colour field abstraction, as well as a fascination with the graphic communication and signage necessary for the new motorways and supermarket packaging then appearing in the environment. I was also interested in usual perception through Gombrich's
Art and Illusion
and experimented with the reduction of figuration to a minimum that would both depict the subject and evoke the atmosphere in a painting. My admiration for Patrick Caulfield's early work and the simplified formalism of Leger's work of the 1920s was developed and applied to a series of paintings based on package tourism on the Costa Brava, new concrete hotels, roads and pools in a hot landscape.
'The paintings [from the 1960s] were based on an underlying diagonal grid, sometimes faintly visible through the paint. This dictated (though not rigidly) the placing of elements in the composition such as colour patterns running through the linear design and the perspective. The lack of facial features, hair et cetera was part of my aim to minimise figuration and individuality as in graphic communication. These early paintings are all in oil but by the late '60s I had switched to using acrylic, which was then a new medium here, and moved towards a theme of abstracted industrial landscapes based on aerial photographs of motorways, airfields, military installations and factories depicting our endless invasion of the natural environment.'
Michael Buhler's box constructions reflect his fascination with UFOs and combine the everyday with the paranormal and extra-terrestrial. In the catalogue for the exhibition
Face to Face
at the Chisenhale Gallery in 1991, Juliet Dean wrote: 'Buhler is concerned with outer space - the unknown - UFOs. His style is at once seductive and discomforting.' In the same document Sacha Craddock and Mario Flecha commented: 'There is an extraordinary confidence and maturity in the work of Michael Buhler. It is so self-contained, combining a straightforward figurative style with a very weird use of space... He depicts complete worlds.'
Buhler has exhibited widely and is represented in many public collections, including the British Museum and the Arts Council of Great Britain.

Constructions, drawings and collages by Michael Buhler were included in the Gallery's 2008 exhibition Is there anybody out there?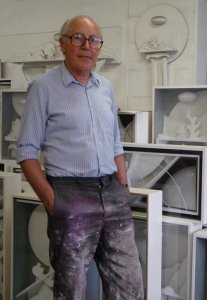 The artist in his studio,
summer 2008