Barbara & Zafer Baran
< BACK
Barbara and Zafer Baran have been collaborating since the 1980s. Barbara was born in London in 1956, of Polish parents, Zafer in Turkey in 1955; they met in 1981.

Their collaborative practice draws on very different backgrounds. Barbara received a BA Hons in French at University College London in 1978, and worked for several years in the language field before changing course for postgraduate studies in photography at Goldsmiths College. She was given a solo show at Impressions Gallery of Photography, York in 1983, on the basis of her spare but evocative black-and-white work. Zafer received a Bauhaus-type education at the State Academy of Fine Arts in Istanbul, graduating with a BA in 1977. Leaving behind a promising career as a graphic designer, he moved to London to continue his art education, with two years of postgraduate study at Goldsmiths followed by a year at Christie's. His first solo exhibition was in London in 1985, and he also took part in the major group show New Horizons at the Royal Festival Hall in 1985; both exhibitions featured his large-scale photographic constructions, in colour and black and white.

After meeting they continued to work individually, but soon also began to collaborate as photographers, their joint work combining Zafer's conceptual interests with Barbara's more narrative side. Their first projects together included the extensive black-and-white landscape series Boulderclough (1983), which centered on the abandoned textile mills and quarries of northern England and documented the physical traces left by human beings on the land. The first of their major collaborative works to be exhibited (at the Photographers' Gallery, London in 1988) was a large series of black-and-white portraits depicting individuals encountered on their travels in the rural north-west of Turkey (1982/1987).

Zafer had from the beginning been particularly interested in experimental photography, creating installations based on light, glass and coloured liquids, and recording these as abstract photographic images compared by some with the work of Mark Rothko or Laszlo Moholy-Nagy. By the start of the 1990s he had become very well known with this work in the commissioned area, undertaking numerous projects for major clients throughout the decade - first on his own and later in partnership with Barbara. They continued to introduce innovative photographic techniques into their portfolio, and were for many years at the forefront of their field as artist image-makers. Commissions from this period include a special photo-typographic alphabet created (at the behest of the renowned graphic designer Alan Fletcher) for the cover of Phaidon's The Photography Book, the title sequence to David Hare's film The Designated Mourner, and ground-breaking photographic work for the English National Opera.

Although they continued to exhibit throughout this period, it was not until the end of the 1990s that the emphasis in their work shifted heavily back towards their personal collaborative side, coinciding with a major commission to design one of the 48 special Millennium stamps issued by the Royal Mail in 1999, each the work of a leading British artist. Their experiments in the course of this project - which involved interpreting the work of William Henry Fox Talbot as a tribute to his pioneering work in photography - led to Atlas, a series exhibited at Borusan Center for Culture and Arts, Istanbul in 2000, and marking a turning point in their endeavours.

This project, dealing with questions of transience and permanence through the intermediary of rocks and stones, was followed by Ephemera, a large-scale, plant-based series more obviously concerned with the themes of mortality and decay. The botanical material explored in this work evoked the fragility of life, but also its highly sexual nature. As with Atlas, some of the images tended towards the iconic, with the quality of a formal portrait, while others moved towards the more or less abstract, in some cases suggesting microscopic or, at the other end of the scale, cosmic phenomena. The images were created using a digital technique: an equivalent of the photogram, but on a very large scale. There was a minimum of manipulation, since the artists' work - whether digitally or conventionally produced - is always as clear and direct as possible, adhering to clearly defined, self-imposed rules.

Gill Saunders, Senior Curator at the Victoria and Albert Museum, describes the Ephemera work as evoking a 'fairytale science'; the artists adopt 'an analytical aesthetic, often presenting their specimens with some of the visual attributes of botanical illustration' (From Specimens to Sex Symbols: Flowers in Photography, EXIT Image & Culture, No. 28, 2007). Richard Pinsent writes that 'these camera-less photographs deal essentially with such core concepts as creation beyond and alongside an intricately post-Modern raft of references to the whole history of photography... In gorgeously sensual, delicately crafted close-ups, cross sections, composites and arrangements of cut flowers, corollas, petals, pistils, pollen and stems; in subtle shades of colour, from white, through yellow, orange, red, violet to vivid blues and greens, set off by deepest black, their Ephemera visualise the cyclical nature of life that governs every species' (The Art Newspaper, March 2003). In his Ephemera catalogue text of 2003, art historian Ian Jeffrey concludes: 'The Barans' findings are less bleak than those of their German counterparts but for all that no less elemental. They too seem to want to invoke an originating moment before the separations were made and the parts identified. With their attachment to refined colouring and to the aromas of beauty, they may not look like radical contemporaries but that is exactly what they are.'

Ephemera was first exhibited at the Blue Gallery, London in 2003, with a further solo show at Borusan Center for Culture and Arts in 2005 (held in parallel with the 9th International Istanbul Biennial); several pieces were also included in the major international group show Rose c'est la vie: On Flowers in Contemporary Art at Tel Aviv Museum of Art in 2004.

As an offshoot from the Ephemera series, in 2003 the Barans were commissioned by the Royal Mail to develop a body of botanical work as the basis for six special stamps commemorating the bicentenary of the Royal Horticultural Society in 2004. A selection from this series, entitled The Flower Cabinet, was exhibited at the Blue Gallery in 2004, to coincide with publication of the stamps.

Following on from Toxic Forest (a land-based work examining environmental issues, exhibited in 2005 and including a DVD projection as well as large-scale prints), their most recent projects include Particles, Fluid Bodies and Xanthos/Letoon - extensions of Ephemera, but also referring to some of their earlier work. In the Particles and Fluid Bodies series the images are suggestive, even metaphorical, encompassing material gathered from many different sources - plant, human and geological. The Xanthos and Letoon work, on the other hand, is site-specific, deriving from botanical specimens collected on two archaeological sites in the south of Turkey.

The Barans' work is held in various public, corporate and private collections, including the Victoria and Albert Museum, London (which acquired nine of their Ephemera and Flower Cabinet pieces in 2005), Tel Aviv Museum of Art, and the National Media Museum, Bradford (formerly National Museum of Photography, Film and Television).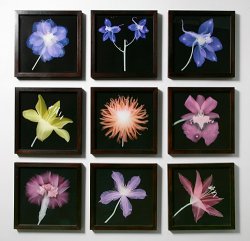 Works from the Flower Cabinet series
installed at England & Co, 2009