Philippe Mora
b1949
< BACK

The young painter and film-maker Philippe Mora arrived in London in 1967, part of the exodus of creative talent from Australia that included Barry Humphries, Germaine Greer, Clive James, Richard Neville, Robert Hughes, Marsha Rowe and Bruce Beresford. 'Swinging London' was the place to be in the 1960s, and as Mora commented recently, 'Australians seemed to be everywhere - moving and shaking in fine arts, music and theatre, in conventional, avant-garde and counter culture... a combined outburst of Australian creativity hitting foreign shores... .'

Mora soon made his mark on the art scene in London. The success of a precocious exhibition in Melbourne had paid his passage to London, and he began painting again as soon as he found a base. Sydney artist Martin Sharp knew Mora from Australia, and invited him to move into his apartment in The Pheasantry, a bohemian mansion on the King's Road, Chelsea. Sharp's other flatmate was Eric Clapton, and it was Clapton, together with Australian artist Arthur Boyd, who in 1970, put up the funds for Mora's first London film: Trouble in Molopolis, which features Germaine Greer as a cabaret singer.

Mora's myriad influences included Dada, comic strip art, Francis Bacon, and Vincent Van Gogh. Mora contributed cartoons to the legendary satirical underground magazine Oz, and his exhibitions in 1968 and 1969 at the Clytie Jessop Gallery were critical and commercial successes. His subsequent exhibitions with Sigi Krauss attracted even more press attention, and in the gallery's Easter Crucifixion exhibition in 1970, Mora's main contribution was a life-size sculpture of a seated figure made entirely of meat, placed on a bentwood chair. This work, Pork Chop Ballad, a metaphor for the war in Vietnam, caused controversy, and Angus Forbes was commissioned to photograph the work for the cover of Time Out magazine. The police were called when Princess Margaret complained about the stench when dining at the restaurant across the street, and Krauss was forced to move it to the back garden where the neighbours, thinking the artwork was a murder victim, called in Scotland Yard again.

Mora was featured in Art International; included in the Camden Arts Centre exhibition Narrative Painting in Britain in the Twentieth Century; and invited to contribute illustrations to Alan Aldridge's The Beatles Illustrated Lyrics. He was also working in film, and in 1973, began an association with producers David Puttnam and Sandy Lieberson which resulted in Mora writing and directing two award-winning films (Swastika and Brother, Can You Spare A Dime?) which featured innovative combinations of documentary and newsreel footage, home movies and fictional films.

In the mid 1970s, Mora returned to Australia, where he co-launched the periodical Cinema Papers. Mora comes from a well known Australian artistic family: he was born in Paris in 1949, and his parents, art dealer Georges Mora and artist Mirka Mora, migrated to Australia in 1951. They settled in Melbourne, where they opened cafes and restaurants, and later the Tolarno Galleries, in the process becoming friends of many leading figures in Australian arts and letters.

In 1976, Philippe Mora wrote and directed Mad Dog Morgan (starring Dennis Hopper) and the ensuing attention led to him relocating to Los Angeles, where he has lived since 1978. He has continued to make art while pursuing a successful international career as a writer and film-maker. His paintings are represented in many private collections and in several Australian public collections, including the National Gallery of Australia and the Heide Museum of Modern Art, Victoria.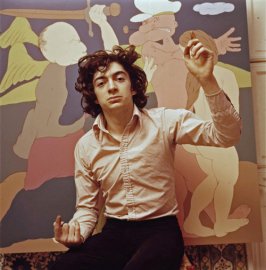 Philippe Mora with his painting
'Popeye and Olive's Expulsion from
Paradise' which was used in the Beatles
Illustrated Lyrics, the cartoon couple
standing in for John and Yoko.
Photographed at the Pheasantry, London,
by Angus Forbes in 1970