Bill Brandt
1904-1983
< BACK
Bill Brandt (1904-1983) is regarded as Britain's greatest modern photographer and his centenary was celebrated with a major exhibition at the Victoria & Albert Museum, London. His photographic career began in Paris in 1929 as an assistant to the Surrealist artist/photographer Man Ray. Brandt moved to England in the early 1930s where he established his reputation by working for illustrated magazines as a freelance photographer documenting British cultural and social life. Both Bill Brandt and his brother Rolf (1906-1983) settled in London permanently and became part of the Hamptstead intellectual and artistic scene.

In the post-war period Bill Brandt's Surrealist interests came to play a major role in his photography. He began to favour a more subjective and imaginative aesthetic that led to his concentration on the female nude as his principal theme. Surrealism is key to these Nude images: Brandt used extreme wide angle lenses and camera angles, allied to an almost infinite depth of focus, to produce manipulated and distorted images of his subject's bodies. These photographs seem equally like studies of surreal sculpture as much as they are stylised depictions of the naked female body. The images are among the most original and memorable of Brandt's oeuvre, and as John Szarkowski from MoMA New York has pointed out: 'In photography only Edward Weston has made nudes of equal power'.

In December 2005-January 2006, England & Co's exhibition Brandt: Known and Unknown* exhibited large format prints of Bill Brandt's famous series of Nudes from the late 1940s and 1950s alongside works by his brother Rolf Brandt, the distinguished painter and illustrator. When these large format archival pigment prints were shown in America, The Los Angeles Times described them as 'lush and velvety, Brandt's characteristic strong tonal contrasts are well exercised'. These large archival Nudes were also exhibited at the Edwynn Houk Gallery, New York, the Fahey/Klein Gallery in Los Angeles, and the Karsten Greve Gallery in Paris.
England & Co also hold a small collection of vintage prints by Bill Brandt which are reproduced on his artist's page on this website.
* Bill Brandt's prints in this exhibition - the large format Nudes - were commissioned and archivally printed for the Bill Brandt Archive Ltd by Adamson Editions who have collaborated with many significant American photographers, including Harry Callahan, Bruce Weber and Annie Liebovitz.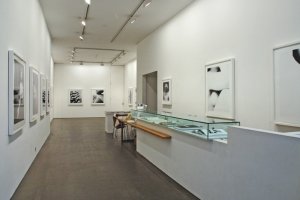 Bill Brandt exhibition, England & Co 2006