Geneviève Seillé
b1951
< BACK
Geneviève Seillé was born in France in 1951. She studied psychology at Toulouse University while working as a primary school teacher. She moved to England in 1974, where she studied art at Stafford College and Wolverhampton Polytechnic, graduating in 1981. She made a series of performances between 1980-86, mainly at the Arena Theatre, Wolverhampton; and she has also directed numerous workshops for adults and children. In 1993, she gave up art education work to concentrate on her own practice.

During during her early years in England, she began to evolve her own 'cosmology' or private world, partly in response to feeling isolated as a foreigner. Seillé's extraordinary, irregularly-shaped works on paper, constructions and bookworks are covered with a bold mixture of writing, numbers and images that are organised within a personal and secret geometry: her work has affinities with those artists whose work is described by Jean Dubuffet as art brut.

For Seillé, the quasi-architectural structures and symmetry in many of her drawings are her way of creating 'order out of chaos'. For her, 'words are magic', and from childhood she has been fascinated by graffiti and what she describes as 'the beauty of lines called letters'. She makes bookworks and constructions in wood, but mainly works on paper, sometime drawing with graphite or ink, more often re-cycling assorted materials into a collage as the work grows. She starts at random and builds up her images gradually.

Seillé now lives mostly in France with her jazz musician husband. She has had many solo exhibitions in Britain, France and America. She is represented by England & Co, who have produced several catalogues of her work. Seillé has been featured in Raw Vision magazine, and she is represented in many collections around the world. One of her constructed bookworks is included in the National Art Library collection in the Victoria and Albert Museum, London.

The illustrated catalogue for her most recent exhibition has an essay about the artist by Professor Roger Cardinal, author of the influential book Outsider Art, and co-curator of the exhibition Outsiders at the Hayward Gallery in 1979.

Illustrated catalogues available.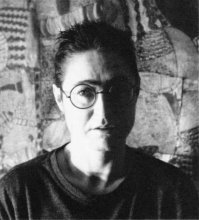 Geneviève Seillé, c1991