Liliane Lijn
b1939
< BACK
Liliane Lijn is a 'New Yorker by birth, a European by education, and a Londoner by choice.' She is a leading pioneer and exponent of kinetic art and continues to experiment with light, movement, words, film, liquids and industrial materials.

In 1959, she travelled to Paris to study at the Sorbonne and the École du Louvre. She soon mixed in intellectual and artistic circles: from the Surrealists still gathered around André Breton, to the group of expatriate American writers and poets who lived in the Beat Hotel. Lijn's early works brought together these surrealist and existentialist influences in a series of extraordinarily detailed phantasmagorical drawings.

When she moved back to New York in 1961, Lijn was excited by space exploration and new technologies. She became the resident artist in a plastics factory where she was able to experiment with industrial plastics, fire and acids. She began using light, movement and liquids in her work and continued these creative investigations when she returned to Europe in 1963. Frank Popper wrote in his book Art of the Electronic Age that 'Lijn was important among the artists who, through their practical and theoretical researches, established the passage from the mechanical to the electronic in art.'

Her intellectual leanings and friendships led her to experiment with the written word and to collaborate with poets in her first Poem Machines and Poemcons (Poem Cones) of the 1960s. By the mid-1960s the cone had become a key sculptural form in her work. During that decade, Lijn was married to the Greek kinetic sculptor Takis and spent time with him in France and Greece before she moved to London in 1966. It was here that Lijn developed her Liquid Reflections: Perspex spheres whose rolling, mesmerising motion across a disc of condensed liquid, reproduced planetary forces. Liquid Reflections were first exhibited in John Dunbar's Indica Gallery in 1967. Two years later, in collaboration with Lijn, Jeremy Fry developed the Liquid Reflections concept into a scaled-down version for 'unlimited' production - an early example of a 'multiple'. For her first solo exhibition in 1970 at the Hanover Gallery, Lijn produced her Linear Light Columns, works made from large rotating, copper wire-wrapped oil filters that created shimmering optical waves of light.

Since her arrival in London in 1966, her work has featured in numerous international exhibitions and is represented in public collections in Europe and the USA. Throughout the 1970s Lijn worked on many diverse projects and ideas. She dreamed of transforming Manhattan in The Hanging Gardens of Rock City and suggested generating electricity for a small town with her . Her performance works included the Power Game, a work that investigated the dynamics of aggression and acquisition; and her book Crossing Map (published in 1982, but begun in the late 1960s) imagined a future world where humans 'become light'. In the 1980s, she examined mythic archetypes, and connected feminism with kinetic art. Lijn's practice continues to be wide-ranging, and over the past decade she has often worked in an architectural context - she has designed and made large-scale public sculptures, most recently completing Starslide, a sculpture/helter-skelter for the new Evelina Children's Hospital in London. In the summer of 2005, Lijn worked in California, being the first recipient of an Arts Council England International Artists Fellowship in partnership with the Leonardo Network and NASA at the Space Sciences Laboratory at the University of California, Berkeley. Her work is represented in many public and corporate collections in Britain, including Tate; the British Museum; and the Arts Council of Great Britain. International collections holding her work include the Museum of Modern Art, New York; the Art Institute of Chicago; the Kunstmuseum, Berne; and the Art Gallery of New South Wales, Australia.

Lijn's work featured in the Tate exhibitions A Summer of Love (2005) and This Was Tomorrow: Art and the '60s (2004). Last year, an important mid-career retrospective of her work was held at the Mead Gallery, University of Warwick Arts Centre. The exhibition, curated by David Alan Mellor, was accompanied by his monograph , published by the Mead Gallery. The Mead exhibition was a focus for the film on Lijn made by Illuminations in their series of interview-based profiles of prominent contemporary artists. Her exhibition at England & Co in 2006, also selected by David Alan Mellor, provided a London launch for this important book.

Illustrated publications available.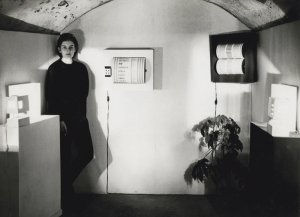 The artist with Poem Machines at the
Librairie Anglaise Gallery, Paris, in 1963