Albert Herbert
1925-2008
< BACK
Born in 1925, Albert Herbert studied at the Royal College of Art in the late 1940s and early 1950s alongside John Bratby, Edward Middleditch, Jack Smith and Derrick Greaves, a group that became known as the 'Kitchen Sink' painters. Herbert was less interested in the prevailing social realism and was attracted to the truth and emotional significance he found in the paintings of Francis Bacon, whom he met when Bacon was working in a studio at the RCA in 1951-52. Herbert instinctively wanted to make figurative, emotive, symbolic paintings, and his work became increasingly introspective, more about states of mind than about the external world around him.
Herbert always used stories as a way of explaining his subjective feelings. His universal narratives were drawn from a myriad of diverse sources including Biblical stories and his own life and experiences. In the late 1950s he was drawn to learn about religion, seeing it as a way of revealing the inner world of the collective mind. In the 1980s he adopted the use of Biblical and theological subjects as a way of making his paintings less private. The surface meanings were often a mask for something else - used as metaphors, universal symbols or archetypes which could be interpreted in several different ways.
He usually started a painting with 'some idea that could be put into words', although he also often said that 'art is not about meanings but feelings'. When he was Principal Lecturer at St Martin's School of Art in the 1960s and '70s, Herbert for a time gave up painting in a representational way, repressing his drive to make images that tell stories. Finding abstraction too restrictive, he eventually found a way back to figurative painting through looking at children's art and making primitive, illustrative, figurative etchings.
Over the past five decades Herbert consistently painted surprising and dream-like images that are the product of an unusual and highly individual imagination. His seemingly naïve yet sophisticated paintings were the result of his life-long journey exploring 'what lies beneath the surface of the mind'. He was on a life-long search for 'the marvellous' which began with a youthful encounter with Surrealism. Recognised as an artist with a powerful and original poetic vision, Herbert constantly renewed and re-invented himself as he explored his inner world, working until just before his death on 10 May 2008.
England & Co published illustrated catalogues to coincide with Albert Herbert's exhibitions and still has the following of his catalogues in stock. Contact the gallery by email or telephone with enquiries and orders.
ALBERT HERBERT: Fifty Years of Painting
Exhibition 5 May-12 June 2004
Catalogue 40 pages, 37 colour illustrations, 1 b/w illustration
Introduction by Jane England
Chronology, one-man exhibitions, group exhibitions, TV & radio,
selected public collections, bibliography
ISBN 1 902046 26 9

£12




ALBERT HERBERT: Retrospective
Exhibition 16 November-23 December 1999
Catalogue 60 pages, 30 colour illustrations, 4 b/w illustrations
Introduction by Jane England
Chronology, one-man exhibitions, group exhibitions, TV & radio,
selected public collections, bibliography
ISBN 1 902046 01 3
£15




ALBERT HERBERT: Recent Paintings
Exhibition 14 October-19 November 1994
Catalogue 12 pages, 11 colour illustrations, 4 b/w illustrations
Introduction by Albert Herbert
Chronology, one-man exhibitions, group exhibitions,
selected public collections, bibliography
38 works listed

£12




ALBERT HERBERT: Recent Paintings
Exhibition 14 November-14 December 1991
Catalogue 12 pages, 10 colour illustrations, 4 b/w illustrations
Introduction by Jane England
Chronology, selected public collections, exhibitions, selected bibliography
41 works listed
£12




ALBERT HERBERT: Paintings & Etchings
Exhibition 2-25 November 1989
Catalogue 8 pages, 6 colour illustrations, 7 b/w illustrations
Introduction by Albert Herbert
Chronology
68 works listed
Out of stock




Set of four available ALBERT HERBERT catalogues

£40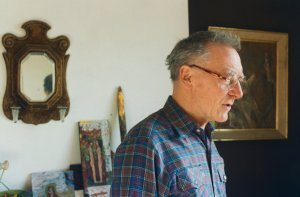 Albert Herbert in his studio