Pamela Bianco
1906-1994
< BACK
Pamela Bianco's career spanned eight decades, encompassing her beginnings as the precocious child artist hailed as a prodigy in 1918 and the early 1920s, through to her development into an American Modernist painter and printmaker in the later 1920s and 1930s, culminating in her final works - the obsessive and meticulously detailed paintings she made in New York in the 1960s.
Bianco's life was spent between Europe and America, moving among literary and artistic circles in Italy, France, England and the USA. Her wide-ranging friendships included the poets Gabriel d'Annunzio, Walter de la Mare and Richard Hughes; British artists James Manson and both William and Ben Nicholson; American artists Joseph Stella, Leonora Carrington and Joseph Cornell; and her many patrons and collectors such as Gertrude Vanderbilt Whitney, George Gershwin, Cecil Beaton, Charlie Chaplin and Eugene O'Neill.
A decade after she died in New York, England & Co held the first retrospective exhibition of her work in December 2005. The exhibition included a substantial group of the delicate early drawings and illustrations that made her famous as a young girl. Also shown were paintings made in London and Wales in the 1920s; paintings of rural America made in Connecticut and Maine during the 1920s and '30s, plus New York city paintings from the same period; Modernist lithographs from the 1930s; stylised flower paintings and sleek portraits from the 1930s and '40s; some of highly finished surreal paintings made in the 1960s.
Illustrated catalogue available.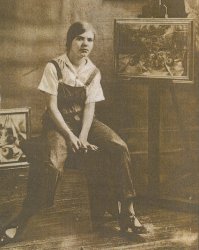 Pamela Bianco c1925