After a Fashion
An exhibition of art & fashion
16 July—3 September 2005 
After a Fashion is an exhibition featuring more than 20 contemporary artists' use of clothing as a medium and subject; a genre that has been explored by many artists and exhibitions since the 1970s, through the '80s and '90s,and into this century. In addition, there are also some earlier works by artists working with fashion such as Sonia Delaunay in the 1920s.
In summer 2004, England & Co first explored this area with Sartorial, an exhibition of conceptual clothing, art and fashion. This summer the theme is continued by the gallery, partly in response to the increasing presence of fashion retailers in Westbourne Grove – the area has now become a fashion mecca of London.
Artists have been increasingly interested in trying to pin down the nature of identity, and often use 'clothing' as a metaphor in this area. Clothing and fashion are important components of identity, and embrace aspects of status, ritual, culture, psychology, body image, personal interests and histories. Fashion itself is an art form that increasingly draws on art for inspiration. An 'uninhabited' item of clothing suggests absence and becomes an abstract symbol: a substitute or surrogate for the body.
Representations or images of clothing invite the viewer to mentally try them on – this implied invitation to participate with the works and make them 'complete' makes clothing a potent vehicle for artists.
Allen Jones' erotic Breast Plate multiple sculpture from 1971 relates to his designs for Kubrick's A Clockwork Orange, and was worn by a model in his 1973 Pirelli Calendar. His lithograph Bikinis is a classic Pop Art image of the 1960s. Photograms of garments by Paul Tecklenberg render clothes into ethereal semi-transparent images that evoke memories and thoughts of past and future wearers. Jane Edden's intricately fashioned minute garments are made from hair, insect wings and feathers, encased in clear resin blocks.
Chris Kenny plays with the idea of a 'house you can wear' with Warehouse, a cased wooden building designed in the form of a shirt, with windows taking the place of pockets. In What to Wear Kenny presents found text fragments of subversive and amusing suggestions. Vito Drago's diptych, A & E T-Shirts uses illuminated chest X-rays with outlines of T-shirts drawn with pierced holes so that the garments are inscribed like a constellation over what lies beneath the body that 'wears' them.
Jason Wallis-Johnson has made colourful cast silicone figurines using reproduction porcelain statuettes of elaborately dressed shepherdesses and dandies as moulds. Often fragments of the original porcelain are left attached so that that faces and body parts remain with the swirling patterned silicone garment elements. Georgia Russell gives new life to vintage fox tippets, coiling them into circular cases and adorning them with sequins and slivers of text and photographs, and in another series she presents dresses made from cut sheet music in glass bell-jars. Charlie Thomas's installation is a display case filled with paper shoes and accessories, accompanied by photographs of a couple wearing his sculpted paper garments. Graham Dolphin's Animate Editions explore the aesthetics of the Boudicca clothing collection in a collaboration between artist and fashion house.
The exhibition includes works by Sonia Delaunay, Allen Jones, Graham Dolphin, Adrian Bannon, Chris Kenny, Paul Tecklenberg, Christian Bérard, Georgia Russell, Vito Drago, Jane Edden, Jason Wallis-Johnson, Cecil Beaton, Christine Khondji, Elisabetta Catamo, Pavlos, Marian Schoettle, and Charlie Thomas. Works range from photographs, installations, sculptures and prints to actual garments, which are un-wearable due to their size, materials or distortions.
England & Co, 2005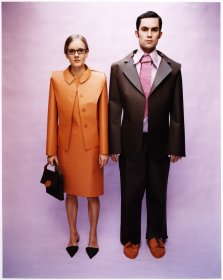 Charlie Thomas: Autumn/Winter – Woman
and Man, 1999-2000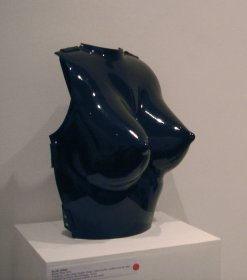 Allen Jones: Breast Plate, 1971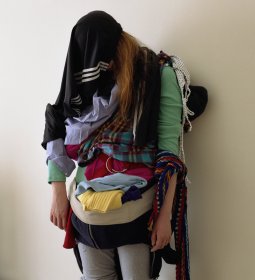 Toru Nagahama: Sister – front, 2005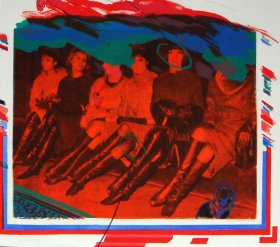 Allen Jones: Exciting Women, 1964 (detail)

Vito Drago: Vanity Twins, 2005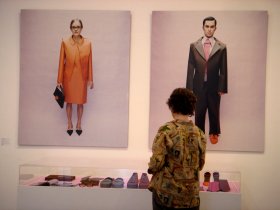 Installation view with Charlie Thomas's Autumn/Winter – Woman and Man, 1999-2000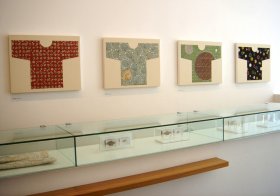 Installation view with Adrian Bannon's My Clothes
As They Should Be series, 2005