William Pye
b1938
< BACK
William Pye is known internationally today for his innovative sculpture with water; however, England & Co's exhibition in February 2008 is focused on the early works of the 1960s and 1970s that first established his reputation as a significant British sculptor. For more than four decades he has worked on private and public commissions, both in Britain and abroad, and it is appropriate that his twin cones, the Slipstream and Jetstream water sculptures of the late 1980s, are seen by thousands of travellers at Gatwick Airport every day. Pye has works in public spaces and buildings, in parks and private gardens, yet his concentration on these mainly large-scale commissions has meant that he has had no consistent gallery presence since a major retrospective in 1978 at the Yorkshire Sculpture Park.
Pye was born in London in 1938 and, after National Service, attended Wimbledon School of Art from 1958 to 1961, and then spent three years in the Sculpture School at the Royal College of Art studying with Bernard Meadows. After leaving the RCA in 1965, he had an eight-year series of successful one-man exhibitions at the Redfern Gallery. Numerous commissions followed and he took the decision to concentrate on large-scale work that was not suitable for exhibiting in galleries, saying that 'consequently I decided from then on to work independently', mainly outside the gallery system. In the 1960s and 1970s he taught in London at the Central School of Art and at Goldsmiths' College of Art; and also at Norwich School of Art, and in the USA as Visiting Professor at California State University. Since the late 1970s he has not done any regular teaching apart from the occasional lecture, and has concentrated on his public and private commissions.

William Packer has written perceptively about Pye's work, describing how his 'early student work was intensively concerned with archaic Greek sculpture, primitive votive and fertility symbols, and Mexican terracottas... he developed the visceral fertility imagery... and modelled organic forms were placed on or hung from structures based on Greek or Japanese temple architecture.' Pye first visited Greece in 1960 and was moved by the ancient sites and sculptures. One of his two most significant works from this period, Deity Enshrined (1963), is included in this exhibition: the wooden shrine structure contains bronze sexual forms representing breast and phallus, that are suspended from chains, in works which have an affinity with some of the sexual imagery in the contemporaneous works of Louise Bourgeois.

Packer has described how soon after leaving the RCA, Pye 'began to use reflective surfaces, and that references to Cycladic architecture characterised the contexts in which he now placed his images, chromium plated images which were now cooler, more impersonal and ambiguous... their ambiguity was increased when he began to use industrial steel tubes, rather than model and cast them. The specific physical reference was removed, and the organic nature of the imagery was implied solely by the intuitive convolutions of the tubing...'. A group of these early metal works form a major part of this exhibition, together with some screenprints from the period with reflective imagery that bridges painting and sculpture.

Public collections holding Pye's works include the Arts Council of Great Britain; Museum of Modern Art, New York; Contemporary Arts Society; Greater London Council; University of Warwick; Graves City Art Gallery, Sheffield; Middlesbrough City Art Gallery; National Museum of Wales; Wakefield Art Gallery; Birmingham City Art Gallery; Aberdeen Art Gallery; and the Government Art Collection. He has exhibited in the USA, Hong Kong, Japan, France and Italy, notably in Turin and in Venice at the Peggy Guggenheim Museum.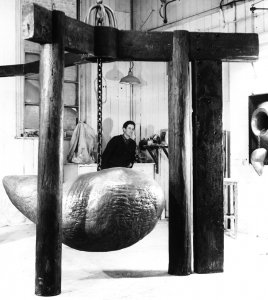 The artist in his studio
with Great Deity Enshrined, 1964