Harald Smykla
< List Drawings & works on paper
&lt Prev
19 of 69
Next &gt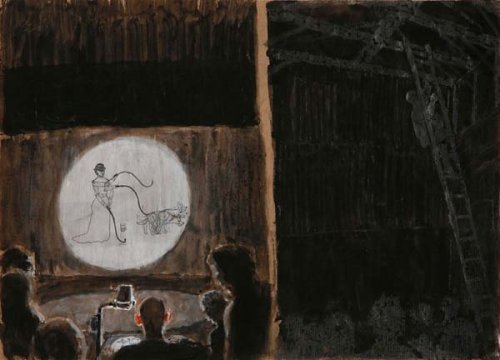 19: PAC Live Movie #3: Dog Whip; Reverse Ladder

The 7-Year Itch
Mixed media on paper
12 x 17.25 inches
Premiered during a Psychological Art Circus performance in the Shed Space, Area10, London SE15, 23/07/04.
In March 2004, the international London-born PAC began a two-year long itinerary using the 'Private Theatre' case history of Anna O (in Joseph Breuer/Sigmund Freudís Studies On Hysteria) as a literary inspiration. An interdisciplinary troupe, drawn from eight countries across three continents, used elements of aerial, mime, voice and projection, fire, shadow, and object manipulation to create an evolving repertoire of acts variously choreographed for a range of sites, situations and contexts in London, Paris and Zagreb.
PAC Live Movies: I devised and performed a series of hand-manipulated overhead-projected live animations with engraved acetate marionettes based on historic photographs. In these proto-cinematic slow-motion 'Live Movies', Anna O appears ghost-like on walls and screens, whereby the openly presented manual process rather enhances audience enchantment. (See also numbers 29, 43, 55, 56, 57, 62, 66, 67 and 68.)
PAC Live Movie #3: Dog Whip refers to the scene described by Breuer, where a spirited Anna chases away a dog that had spilled water. Reverse Ladder: my only ever aerial act consists of climbing up and down the overhanging rear side of a tall creaking aluminium ladder in virtually complete darkness.
&lt Prev
19 of 69
Next &gt