Harald Smykla
< List Drawings & works on paper
&lt Prev
4 of 69
Next &gt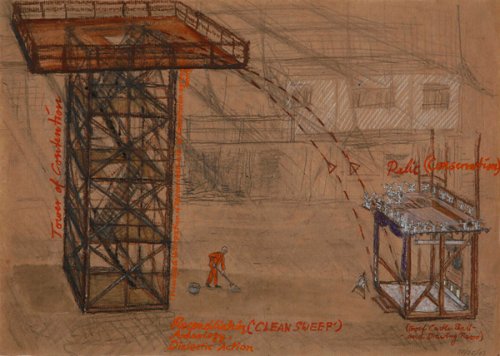 4: Clean Sweep/Gorf Castle

The 7-Year Itch
Mixed media on paper
12 x 17.25 inches
Site-specific works for 365 Days of Area10, London SE15, starting 07/06/03.
Clean Sweep: Over two weeks, I mark out the ground that separates two previously connected timber structures through mopping the relevant floor area with water and bleach every day, thus reconciling past and present.
Gorf Castle Ball- and Drawing Room: The timber 'ruin' I have reclaimed as a 'folly' with turrets of upside down origami frogs is open to everyone willing to put on 'drawing sandals' (graphite sticks attached to bare feet with elasticated straps; see number 8), so that every step is documented on the paper-covered ground. Throughout the show, Gorf Castle hosts various 'drawing days' and guest performers.
&lt Prev
4 of 69
Next &gt