Harald Smykla
< List Drawings & works on paper
&lt Prev
63 of 69
Next &gt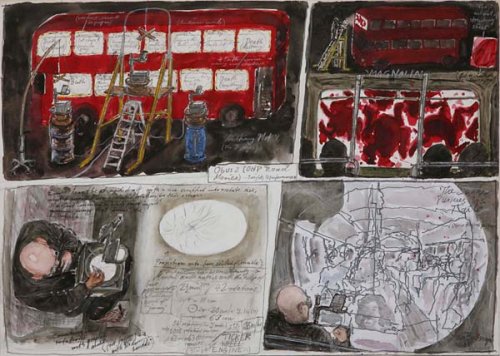 63: OHP Road Movies (Obus 2)
The 7-Year Itch
Mixed media on paper
12 x 17.25 inches
Four new performances with overhead projectors in and around the PAC's Routemaster bus, Area10, London, 04/05/05.  
Melting Plot: The 7 Ages of WoMan (with Beth Elliott and Rosie Snell; see number 28).
The Obus windows are lined with white paper to become screens for OHP projections of ice marionettes and various members of my acetate-engraved 'live movie' cast. Makeshift platforms, steps, ladders, puppet stands and turntables form an elaborate outside installation, from which the three puppeteers operate, while audiences inside the bus experience the projections that move along the windows as if on a journey.
Magnolia Reprise: A re-enactment of the raining frogs scene in Paul Thomas Anderson's eponymous film.
From a raised platform in front of the bus, a forward-tilted OHP casts its field of light on the paper-covered upper front window. I let frog shapes cut out from sliced strawberries drop onto and slide down the projector's sloped light table. 'Passengers' on the top deck watch large frogs silently splatter on the window. After the performance, I offer strawberry frogs on a platter for the audience to eat.

Obus Ticker (Engine Heart)
On the top deck, I make an overhead-projected acetate wheel turn through the propulsive impact of tick mark incisions in time with my heartbeat, and count completed rotations with my foot. Knowing the duration of my cardiac journey, I can now calculate its virtual speed with the help of passengers: 0.64 km/h seems way below average, even for a London bus.

The Snake Pursues Its Tail (Reprojection pilot; see number 46.)
Sitting at the very back of the top deck, with an OHP on my lap, I trace and cast back the spatial and temporal reality in the projector's field of light. Tonight's scraggy drawing merging with the 'bus-scape' before me is the outcome of my first trial of this magic process, launching many future Reprojections.

&lt Prev
63 of 69
Next &gt