Harald Smykla
< List Drawings & works on paper
&lt Prev
65 of 69
Next &gt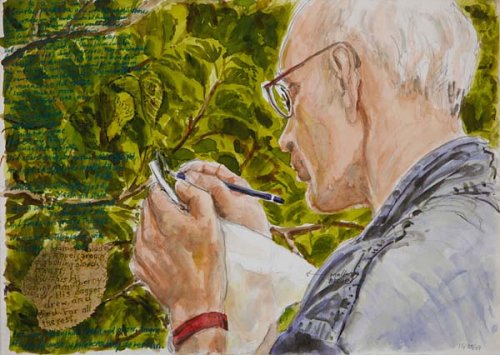 65: Silkworm's Dream
The 7-Year Itch
Mixed media on paper
12 x 17.25 inches
Live art work for The Garden of Secret Delights (curator: Indra Khanna), Brockwell Park, London SW2.
Start date 15/05/04.
I perforate living mulberry leaves with text excerpts from Shakespeare's
Midsummer Night's Dream
that feature the staging of the Pyramus and Thisby story and the mythology of the mulberry tree. Words appear to be eaten into the leaves by literate silkworms, attempting to tell the story of the plant they feed on (thus 'spinning a good yarn').
&lt Prev
65 of 69
Next &gt