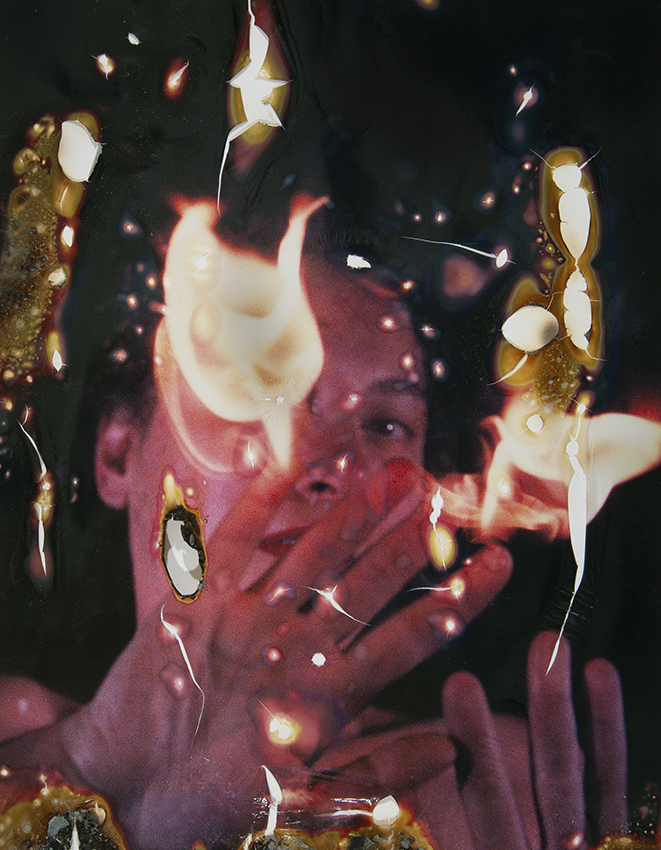 FRIEZE MASTERS: Spotlight
12–16 October 2022
Regent's Park, London
Anne Bean is an active and legendary figure in live art and performance in the UK. A multi-faceted artist, she has resisted a conventional art-world career and followed her own personal trajectory of enquiry: 'What is art and what am I doing in it?'
The gallery's presentation of works from the 1970s and 1980s explores some of Bean's early solo performances and videos.
Anne Bean first attracted public attention in the character of a rock star – 'Anne Archy' – with music and performance group The Moodies in the early 1970s. This art student collective subverted norms of gender and sexuality and were inadvertently so successful that punk impresario Malcom McLaren wanted to manage them. It was the start of Bean's collaborative engagements with other artists, who included pyrotechnic sculptor, Stephen Cripps, and the anarchic Kipper Kids. in 1983, with percussionist and performance artist Paul Burwell and sculptor Richard Wilson, Bean co-founded the Bow Gamelan Ensemble, creating unorthodox visual and sonic experiences and site-specific art installation events.
By 1980, Bean's extraordinary performances had already attracted international attention: described as 'extremely ferocious with complex meanings' by the Italian contemporary art periodical D'Ars, which also noted that 'Anne Bean has advanced into an area which seemed prohibited to women artists.'
Fearless dialogues with fire and water
Several iconic images resulted from Bean's performances in the 1970s, emerging from her fearless dialogues with the elements of fire and water, in risk-taking, perilous performances that tested her endurance and courage. Many of these images, such as the Heat series, were produced in a collaborative process far beyond mere photographic documentation. Bean has long been interested in the creative and/or destructive potential of her processes and materials, and often later re-engaged with these images, attacking the photographs with flame or corrosives, or cutting up, scratching, painting over, collaging or inscribing them.
Bean's wide-ranging practice encompasses performance, photography, slide projections, drawing, painting, ceramics, video and sound. Her 'materials' have included fire and pyrotechnics, steam and water, even blood, as well as the more conventional paper, paint or ink. Bloody Tears (for Ana Mendieta) was made in 1985 as Bean's immediate response to her learning of Mendieta's shocking, violent death and the ambiguity surrounding it. Bean says she felt 'compelled' to make this work and used her own blood as a medium.
An ongoing series of performances and resultant works – Bean's investigations of concepts of 'erasure' – spans decades and is evidenced in an early, partially paint-obliterated photograph, Painting Myself Out (1973). While still a student, she stated that her main interest was 'the multiplicity of being and the endless potential of 'whom' one could be' and has often explored concepts of multiple identities in her work: she has always wanted to 'allow other manifestations of myself to breathe'. In an interview, Bean elaborated on the blurring of art and life: 'By being a continuum, art includes all the life 'in between'. It's just the truth of it. That's how the work happens, in among other practices of life. So those moments that happen to have a photograph or a bit of video attached, they are simply butterflies caught in a net…'.
Experiments with video
Two video film works, Radiant Fields (1996) and Flight from Gondwanaland (1981), reflect Bean's experiments with video techniques in the 1980s and 1990s. Radiant Fields uses high-resolution thermographic imaging and parallel digital images to play with notions of how we see and how we interpret our world. In Flight from Gondwanaland, Bean 'began the performance standing underneath a bright light bulb as the only lighting in the room'. She read out words from her teenage writings before a collaborator used an air pistol to shoot the light bulb so that it shattered over her head 'and the room went dark, apart from the video'.
The self-portrait photo-collage Where the Mind Meets the Tongue relates to Bean's participation in William Burroughs's The Final Academy at the Ritzy, Brixton, London in 1982. Self-Taut from the same year, was made in a series of private actions in the studio: Bean attached strong clips with thread to her lips which were then pulled to extend them under tension while she sang through the resulting pain. In a text work a few years before – a kind of manifesto titled I Believe in Nothing but Miracles (1979) Bean had asserted that 'Art is the concept by which we measure our pain'.
Born in Northern Rhodesia (now Zambia) in 1950, Bean moved to England in 1969 after an initial art education at the University of Cape Town, and attended Reading University, graduating in 1973. Since 1970, Bean has performed throughout Europe, USA, Africa, Mexico, Australia, China, India and Japan, as a solo performer and also collaboratively. In 2008, she was awarded the Legacy: Thinker in Residence award by Tate Research and the Live Art Development Agency. The 2018 monograph, Anne Bean: Self Etc, an extensive survey of her practice, was published in a collaboration between Intellect Books and the Live Art Development Agency. Bean has exhibited (and performed) widely, including in London at the Hayward Gallery, Whitechapel Gallery, Matts Gallery, Royal Academy, ICA, MOMA Oxford and Tate Liverpool.