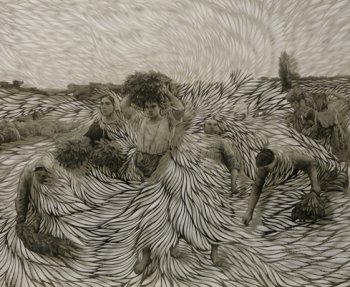 Artist's page >
8—27 June 2009
Georgia Russell
RECENT WORKS
GEORGIA RUSSELL slashes, cuts and dissects printed matter, which she then manipulates and re-constructs into extravagant, ornamental, sculptural paper-works. The decorative qualities and inherent potential of her found ephemera are fully exploited as she transforms books, music scores, prints, newspapers, maps or photographs – sometimes with flamboyant colour and wild cutting, or with discreet play on the subject or title of her printed matter. Her works hover between object and image.
This current exhibition includes a collection of work incorporating old musical scores: Russell feels that 'music transcends language and is a trigger for the memory, poetry without words'. Her rhythmic cut-out traceries with their accompanying shadows, function as 'membranes of memories', looking as though they have been disturbed by a breeze or slight tremor. They evoke memories of music once heard, and represent 'our fading recollections of a time, person or place'.
Russell's work with books began during an artists' residency in Paris while she was a student at the Royal College of Art. Old books have always seemed to her like sculptural objects 'representing the many hands which have held them and the minds they have passed through'. She says that she has always chosen something which 'holds within it a sense of its own personal history, an object which has a secret life', and wants to resurrect her fragile materials and give them 'a new life and new meaning'. There is a simultaneous sense of loss and preservation in each construction, as she wants to retain and reclaim the past as much as her techniques attack it.
Georgia Russell has been represented by England & Co since 2002, and as well as several solo exhibitions at England & Co, she has taken part in many exhibitions curated by the gallery, including The Map Is Not the Territory and Literary Constructs. Public collections that hold her work include the Victoria and Albert Museum in London – one of the two Russell works acquired from England & Co for the Museum was exhibited in their recent display Mapping the Imagination. She also works as a lecturer and on educational projects, and her public art commissions include a sculptural installation at the Jubilee Library in Brighton. Russell's work has been featured in many publications over the past few years, including the new book from Black Dog Publishing, Paper: Tear, Fold, Rip, Crease, Cut.
She has exhibited in numerous exhibitions abroad: the most recent include the Holland Paper Biennial, The Coda Museum, Holland (2008); Imaginative Qualities of Actual Things, Price Tower Arts Center, Oklahoma, USA (2008); The Book Borrowers: Contemporary Artists Transforming the Book, Bellevue Arts Museum, Washington, USA (2009); Novel Ideas, Oakville Galleries, Ontario, Canada (2009); Contained Thoughts, The Courtauld Institute Library Exhibition Space, London (2009); Cut It Out: Contemporary Paper Cut Artists at the Otter Gallery, Chichester, touring to Southampton City Art Gallery (2009). In October, she will be one of the artists included in Slash: Paper Under the Knife at the Museum of Art & Design, New York.