Chris Kenny: Telling Stories in Kent
27 September–15 November 2013
Chris Kenny is included in the first part of the exhibition Telling Stories at the Sevenoaks Kaleidoscope Gallery in Kent. Telling Stories considers the role of artist as storyteller and addresses ideas of communication and mis-communication.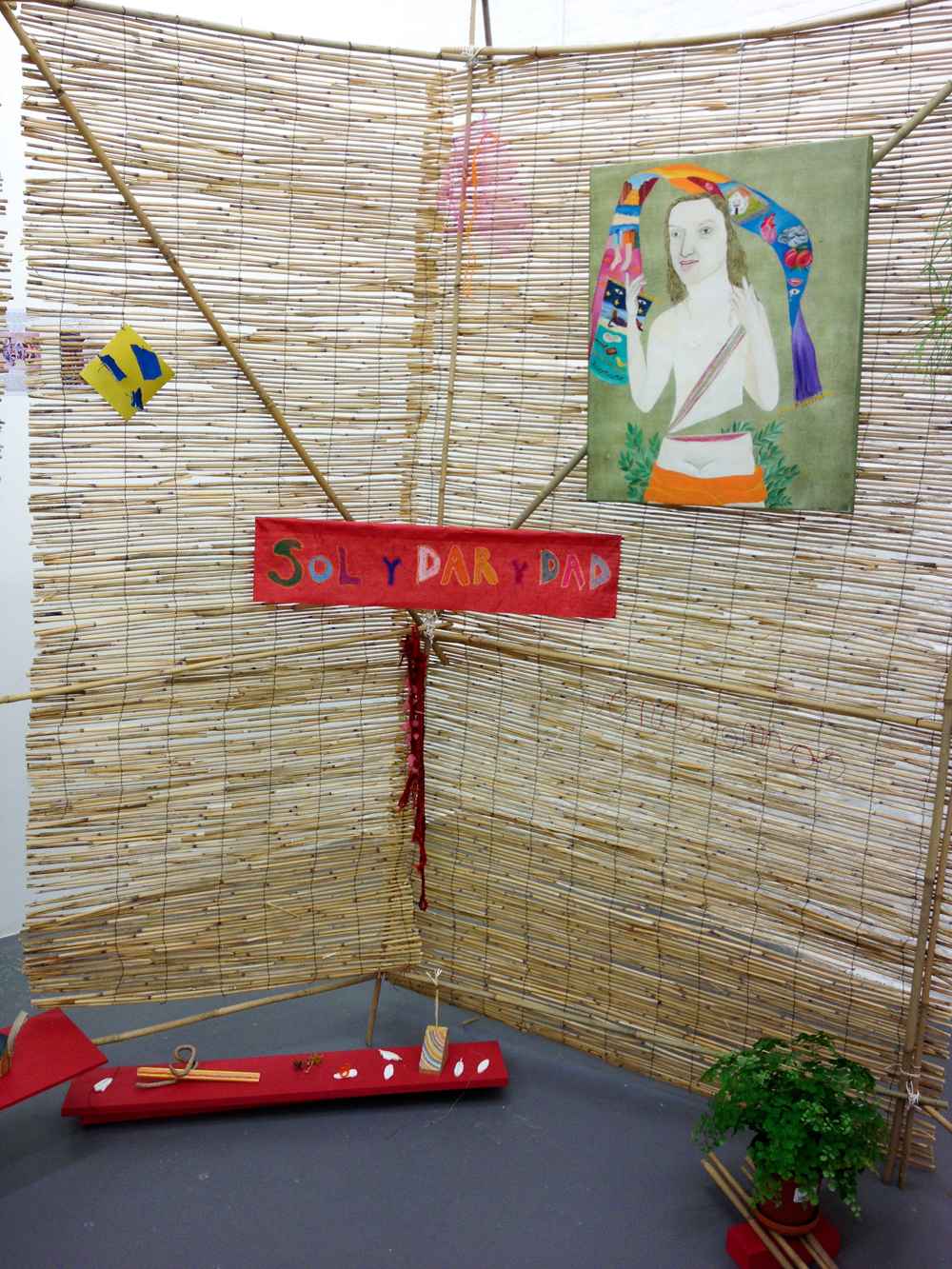 Cecilia Vicuña: Artists from Latin America in London at the David Roberts Art Foundation
7 June – 3 August 2013
Cecilia Vicuña is one of the artists included in the exhibition curated by Pablo Léon de la Barra and Carmen Juliá at the David Roberts Art Foundation, London: Curators' Series #6. Friends of London. Artists from Latin America in London from 196X – 197X.
John Dugger and Guy Brett on Participatory Art
2 April 2013
An event complementing the Keywords exhibition at INIVA, London: John Dugger will discuss Participatory Art with art historian and curator Guy Brett on Tuesday 2 April.
Two gallery artists in Mappamundi, Toulon
16 March–12 May 2013
Jason Wallis-Johnson and Chris Kenny are each represented by several works in the exhibition Mappamundi: Art et Cartographie. Held at the Hotel des Arts, Centre D'Art du Conseil General du Var, Toulon, the exhibition is curated by Guillaume Monsaignon as part of the programme for Marseilles, 2013 European Capital of Culture. Artists include Joseph Kosuth, Vic Muniz, Alighiero e Boetti and Guillermo Kuitca.
John Dugger: Keywords at INIVA and Tate Liverpool
13 March 2013–1 June 2014
John Dugger's Sports Banner (1980) is in Keywords, an exhibition curated by Gavin Delahunty and Grant Watson and presented in London by INIVA (the Institute of International Visual Arts) London, and in 2014, at Tate Liverpool. Keywords is based on Raymond Williams' 1976 book, Keywords – a vocabulary of culture and society. The exhibition has three parts: a display at INIVA; a lecture series; and an exhibition at Tate Liverpool of artworks from 1976 to the present, with an emphasis on the 1980s, drawing on iconic works from Tate's collection.
Cecilia Vicuña at FRAC Lorraine
2 March–23 June 2013
Cecilia Vicuña's Quipu Austral installation (first seen at the Sydney Biennale in 2012) has been recreated in a new immersive, large-scale installation at FRAC Lorraine, Metz, France, as part of the exhibition Les Immémoriales. Vicuña is exhibiting with Agnes Denes and Monika Grzymala: three artists from different backgrounds and generations share aesthetic and ethical concerns, and make ephemeral works "inspired by memories of the Andean peoples, Native Americans and Australian Aborigines – the peoples and territories with which they weave the present and build the future."
China Symposium: John Dugger in conversation 
9 November 2012
John Dugger will be in conversation with Dr Wenny Teo during the symposium (Re) Orientations: China in the Western Artistic Imagination from the 1960s to the Present Day at the Courtauld Institute of Art. Organised by Dr Teo with Professor Sarah Wilson from the Courtauld Institute, this symposium explores the impact of Chinese art, culture and politics on the Western artistic and intellectual imagination, focusing on the 1960s and 1970s. 
Tina Keane features in three exhibitions
26–27 October 2012
Tina Keane will be one of the artists exploring notions of performative projection in Playing in the Shadows on 26 and 27 October as part of the programme for The Tanks: Art in Action at Tate Modern. Keane will also be included in the group exhibitions Revolver Part 3 at Matts Gallery (31 October–18 November); and in Screen Practice at England & Co (27 September–31 October).
Film script by Paule Vézelay on show at Tate Modern
October 2012
An early unrealized film script by Paule Vézelay from the collection of Tate Archive is currently on view at Tate Modern in the display Poetry and Dream on Level 3, and is also the subject of an article in the current issue of Tate etc magazine.
Chris Kenny and Georgia Russell make the First Cut
5 October 2012–27 January 2013
Chris Kenny and Georgia Russell will both be included in the exhibition First Cut at Manchester Art Gallery, Manchester, UK. The exhibition features the work of 31 international artists who work with paper in new and revolutionary ways, 're-thinking the possibilities of paper'.