The Art of Hip-ok-risy in the City
12–14 March 2010
Chris Kenny's text construction Embrace Blasphemy is featured in The Art of Hip-ok-risy, an exhibition held within The Mayor's & City of London Court in the Guildhall Buildings of The City – a project realized by Maria Nicolacopoulou. Within the judicial context of this historic civil courtroom, seven artists (Chris Kenny, Oliver Clegg, Maria Marshall, Gideon Rubin, Mandy Lee Jandrell, Richard Dyer and Doug Fishbone) examine the phenomenon of hypocrisy on a personal, social, cultural and political level.
Slash: Paper under the Knife in New York
Until 4 April 2010
This month is the last chance to see works by two England & Co artists, Georgia Russell and Chris Kenny, at the Museum of Arts and Design in New York. Slash: Paper under the Knife is the museum's third exhibition in its international survey series Process and Materials. Curated by David Revere McFadden with Laura Stern, it explores unusual paper treatments, book works, cut paper and includes works by Kara Walker, Olafur Eliasson, Thomas Demand, Tom Friedman.
St Ives and Beyond at Pallant House
March–June 2010
Three works by Morag Ballard accompanied the exhibitions St Ives and Beyond (6 – 31 March) and John Tunnard: Inner to Outer Space (13 March – 6 June) at Pallant House Gallery, Chichester.
Cabinet of Curiosities at Kensington Palace
26 March–October 2010
Works by Georgia Russell and Jason Wallis-Johnson are displayed in the Cabinet of Curiosities curated by Echo Morgan as part of her room in the exhibition The Enchanted Palace at Kensington Palace, London. The exhibition combines fashion, performance, and dreamlike installations in the magnificent State Apartments.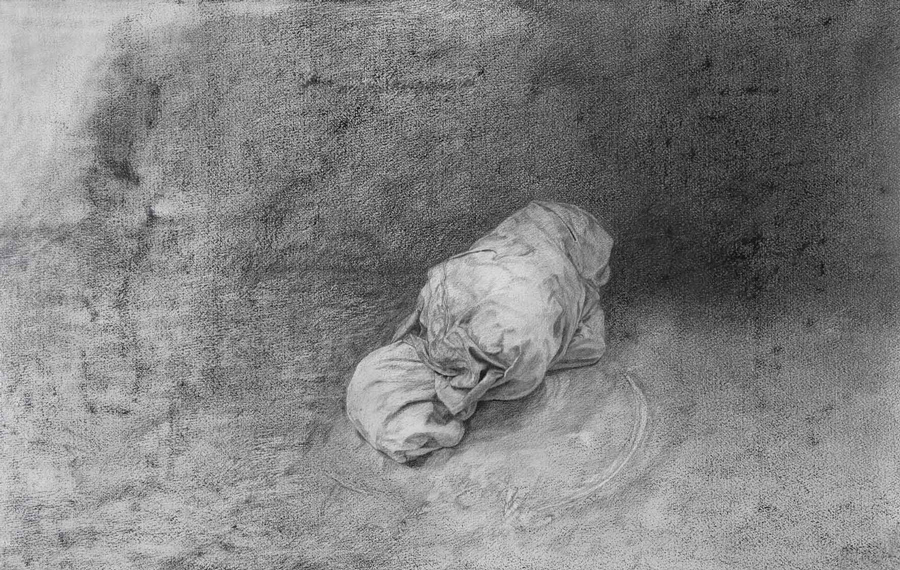 Stuart Brisley at Kettle's Yard
16 January–14 March 2010

The drawing Pig Wars (2008) by Stuart Brisley can be be seen in Modern Times: responding to chaos, an exhibition at Kettle's Yard, Cambridge, of drawing and film selected by the painter, film-maker and curator Lutz Becker. The exhibition will later travel to the De La Warr Pavilion, Bexhill, East Sussex (1 April–13 June 2010).
British Museum acquires Chris Kenny's Philosophy circle
January 2010
Following the Zoo Art fair, Chris Kenny's three-dimensional construction with text "Philosophy can damp down the hottest flames of lust" was acquired recently from England & Co for the collection of the British Museum.
Vito Drago revisits Palermo
December 2009
Vito Drago's solo exhibition Quesito indagine espediente took place in the Castello Beccadelli di Marineo in his home town of Palermo, Sicily.
The Map Is Not the Territory Revisited
November 2009
Several artists represented by England & Co feature in Katharine Harmon's book The Map As Art: Contemporary Artists Explore Cartography (Princeton Architectural Press). The Map Is Not the Territory Revisited is the fourth in a series of exhibitions reflecting the Gallery's interest in artists' cartography, and as a complementary event for the British launch of Harmon's new book.
Jane England's photographs in '70s Style & Design'
November 2009 London
Jane England's photographs from the 1970s feature throughout the new book by Dominic Lutyens and Kirsty Hislop: 70s Style & Design, published this month by Thames & Hudson.
Brian Griffin: The Road to 2012
30 October 2009
Brian Griffin's were the first six portraits to be unveiled in the National Portrait Gallery/BT Road to 2012. The project has commissioned photographers to celebrate those around Britain who are making the 2012 London Olympics possible.