Cabinet of Curiosities at Kensington Palace
26 March–October 2010
Works by Georgia Russell and Jason Wallis-Johnson are displayed in the Cabinet of Curiosities curated by Echo Morgan as part of her room in the exhibition The Enchanted Palace at Kensington Palace, London. The exhibition combines fashion, performance, and dreamlike installations in the magnificent State Apartments.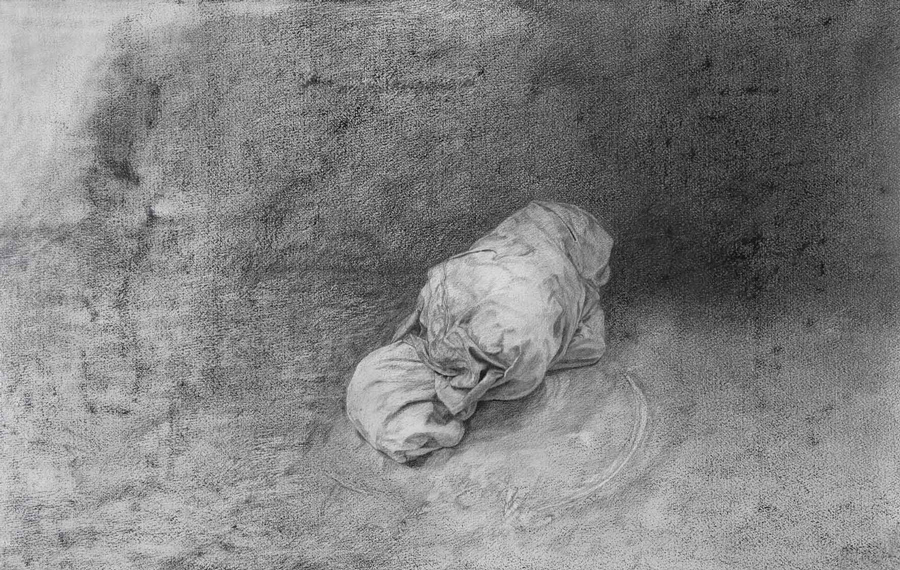 Stuart Brisley at Kettle's Yard
16 January–14 March 2010

The drawing Pig Wars (2008) by Stuart Brisley can be be seen in Modern Times: responding to chaos, an exhibition at Kettle's Yard, Cambridge, of drawing and film selected by the painter, film-maker and curator Lutz Becker. The exhibition will later travel to the De La Warr Pavilion, Bexhill, East Sussex (1 April–13 June 2010).
British Museum acquires Chris Kenny's Philosophy circle
January 2010
Following the Zoo Art fair, Chris Kenny's three-dimensional construction with text "Philosophy can damp down the hottest flames of lust" was acquired recently from England & Co for the collection of the British Museum.
Vito Drago revisits Palermo
December 2009
Vito Drago's solo exhibition Quesito indagine espediente took place in the Castello Beccadelli di Marineo in his home town of Palermo, Sicily.
The Map Is Not the Territory Revisited
November 2009
Several artists represented by England & Co feature in Katharine Harmon's book The Map As Art: Contemporary Artists Explore Cartography (Princeton Architectural Press). The Map Is Not the Territory Revisited is the fourth in a series of exhibitions reflecting the Gallery's interest in artists' cartography, and as a complementary event for the British launch of Harmon's new book.
Jane England's photographs in '70s Style & Design'
November 2009 London
Jane England's photographs from the 1970s feature throughout the new book by Dominic Lutyens and Kirsty Hislop: 70s Style & Design, published this month by Thames & Hudson.
Brian Griffin: The Road to 2012
30 October 2009
Brian Griffin's were the first six portraits to be unveiled in the National Portrait Gallery/BT Road to 2012. The project has commissioned photographers to celebrate those around Britain who are making the 2012 London Olympics possible.
Georgia Russell responds to Charles Darwin
19 October–11 December 2009
The Name in the Flower celebrates the 150th anniversary of the publication of Darwin's On the Origin of Species with commissioned work by Georgia Russell and Sam Winston. Inspired by Ruth Padel's Darwin: A Life in Poems, the artists respond to the zoologist and the poet through dissections of their writings. The exhibition is held in the Library Exhibition Space, Courtauld Institute of Art, London.
England & Co at Zoo Art Fair 2009
Stuart Brisley performs at the Serpentine Poetry Marathon
18 October 2009
On Sunday afternoon, Stuart Brisley was one of the prominent artists, poets, philosophers and musicians participating in the Serpentine Gallery's weekend-long Poetry Marathon in Kensington Gardens. It was the final event to take place in the Serpentine's 2009 Pavilion designed by SANAA.
Report • Exhibition