Performance continues…
November 2007–13 January 2008
… in Cardiff where Stuart Brisley, Ian Hinchliffe, Alastair MacLennan and Tatsumi Orimoto are featured in Flashes from the Archives of Oblivion at the Chapter gallery. The exhibition brings together photographs, videos, drawings and ephemera documenting seminal performances of the 1970s, along with recent works.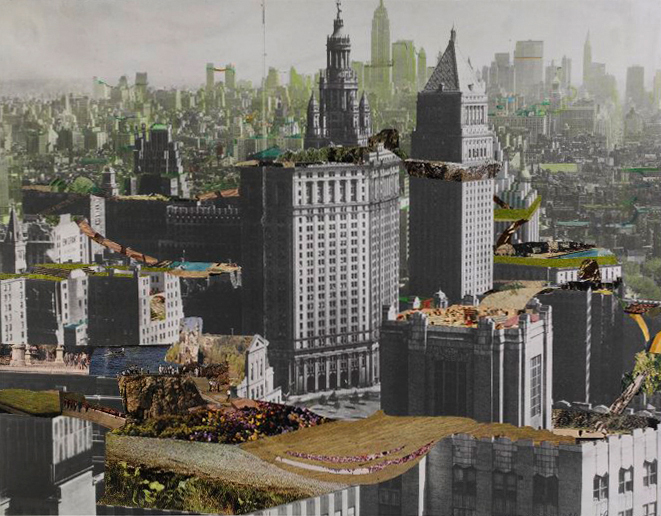 Liliane Lijn's collage at the British Museum
November 2007–9 March 2008
Hanging/Floating Gardens of Rock City i, the collage acquired by the British Museum from Liliane Lijn's 2006 exhibition at England & Co, is now on public display. It is included in Recent Acquisitions Part ii, devoted to 20th and 21st-century works on paper, in the Prints and Drawings Gallery, Room 90, the British Museum, London WC2, until 9 March 2008.
Four Map the Imagination at the V&A
October 2007–27 April 2008
Works by four artists acquired through England & Co are currently on view at the Victoria & Albert Museum, London, as part of the display Mapping the Imagination. Druksland—Physical and Social 15 January 1974, 11.30am by Michael Druks, Britain: March 2003 (Britain on Iraq) by Georgia Russell, and Which Direction (You Are Here ii) by Vito Drago are in the Julie and Robert Breckman Prints Gallery; London Lightbox by Jason Wallis-Johnson can be seen in the Prints, Drawings and Architecture Education Room.
Maliheh Afnan in St Petersburg
October–November 2007
Works by Maliheh Afnan are featured in the exhibition The Dance of Pen and Ink – Contemporary Art of the Middle East at the State Museum of Oriental Art at the State Hermitage Museum in St Petersburg.
On the map in Ireland
September–November 2007
Works by several England & Co artists – including Chris Kenny and Satomi Matoba – are included in (C)artography: Map-making as Artform at the Crawford Gallery, Cork. The exhibition takes the the work of early map-makers as its starting point for a survey of contemporary artists who use mapping methodologies, often for very different reasons. The exhibition is accompanied by an illustrated catalogue featuring Map Circle (16 Typhoons) by Chris Kenny on the cover. Until 10 Nov 2007.
Modern British at the RCA
11–16 September 2007
England & Co will be represented at the 20|21 British Art Fair again this year. Featured artists will include John Armstrong, Morag Ballard, Martin Bradley, Rolf Brandt, Benjamin Creme, Arthur Giardelli, William Green, Heinz Henghes, Ivon Hitchens, Peter Kinley, Liliane Lijn, Anne Rothenstein and Paule Vézelay. The fair takes place at the Royal College of Art, Kensington Gore, London SW7.
England & Co at the Fair
During this time the Gallery will be open as usual with the current exhibition, Klaus Friedeberger: Works 1940-1970.
Cover note
September 2007
Morag Ballard's painting Noon has been chosen as the cover image for Peter Davies' new book, St Ives 1975–2005: Art Colony in Transition, published by the St Ives Printing & Publishing Company.
'My life as a naked artist': Grayson Perry on being a Neo Naturist
20 June 2007
Grayson Perry writing in The Times  today recalls his experiences with the Neo Naturists, currently celebrated in their exhibition at England & Co, The Neo Naturists.
Anytown in Kent
11 June–19 July 2007
Works by Vito Drago, Alberto Duman, Chris Kenny and Jason Wallis-Johnson are currently on view in Anytown, an exhibition exploring the urban environment through the eyes of artists, photographers and designers from across four continents. At Mascalls Gallery in Kent.
Alberto Duman and Georgia Russell in V&A collection
May 2007
The Victoria and Albert Museum, London has acquired one of Alberto Duman's screenprints from his English International Images series: View of Braziers Park, Ibsden, near Wallingford.
The Museum has also acquired a second work by Gallery artist Georgia Russell, Britain: March 2003 (Britain on Iraq). The Museum already owns a cut-book work from her series Clans and Tartans of Scotland.