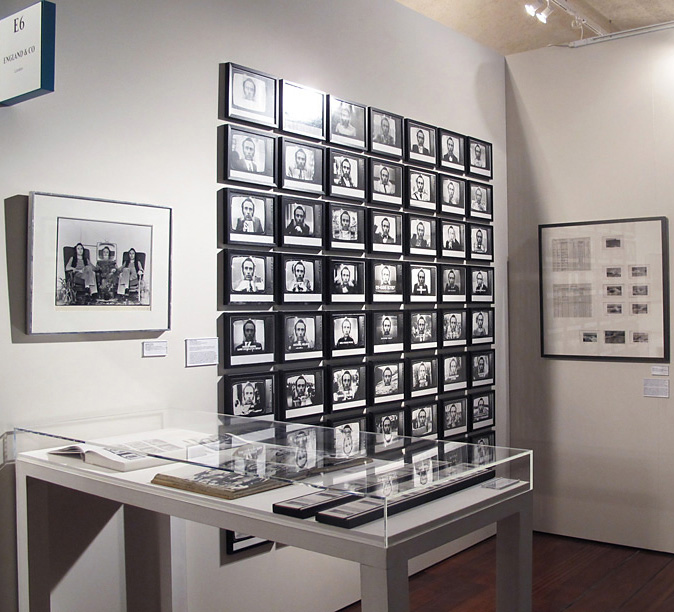 PHOTO LONDON 2016

19–22 May 2016 

At PHOTO LONDON, England & Co explored photography's contribution to the radical art of the 1960s and 1970s avant-garde.
By the mid-1970s, conceptual artists were regularly using photography as a tool in their work, together with film and video: photography made it possible for artists to experiment and introduce a material presence to ephemeral time-based events, and it also continued to serve as an ideal form of documentation.
England & Co's presentation encompassed three areas: conceptual works using photography; portraits of artists of the period and their works in installation; and performance images by artists who used photography as an integral part of their practice, directing and collaborating with photographers to document and produce concrete 'evidence' of what had taken place.
A featured artist was MICHAEL DRUKS, an Israeli-born British artist, who made conceptualist use of photographic material to sort ideas and information. In the mid 1970s, Druks produced a major series of works involving varied interventions with TV screen images. Using performance and photography, these interventions had subversive, humorous or politically charged results. His Unauthorized Biography series (1975) uses images made by taping his own self-portrait to a television screen and waiting slowly for the juxtaposition he wanted before taking a photograph. In other works, he intervened more physically and added his own performative elements to what was happening on the TV screen.
SUSAN HILLER was represented by an Addenda related to her large-scale work, Dedicated to the Unknown Artists (1972-76). These works incorporate seaside postcards from numerous British coastal locations depicting tumultuous waves, usually captioned 'rough sea'. Hiller took the position of curator for these productions by unknown artists, and in the Addenda, was more interested in the relationships that the cards established between memory, history and geography.
HOWARD SELINA is a British artist who utilized photography in his Location works series of the early 1970s: in Seven Small Woodland Events, photographs of a figure in a landscape spell out seven related words using sign language. He also documented 'process': In Sandstone Traces (1972) a sandstone block was used to create a charcoal cross on the floor; and then the block was gradually broken into (numbered) pieces, while all sounds were recorded on the tape-recorder seen in the photographs.
CECILIA VICUÑA, the eminent Chilean poet, visual artist and filmmaker, has moved between her native Chile and New York City for more than three decades. Her ephemeral, site-specific sculptures, Los Precarios (The Precarious) often only exist afterwards in photographic form; and her performance works (also site-specific) exist later as photographic documentation that she has directed and choreographed in a collaborative process.
Reading the CV of artist ANNE BEAN was described by the art critic and curator Guy Brett as "like following a continuous performance, a continuous response to the world", and she uses performance in what an Artscribe article called "a random, protean, art-as-life way". One of the photographic works from her early performances of the 1970s, uses Polaroid self-portraits with cubist/futurist ideas of time and space.
In the midst of 1960s Swinging London, British photographer CLAY PERRY was 'the' photographer for the avant-garde art scene, documenting the most innovative international artists of the period, including Yoko Ono, David Medalla, Liliane Lijn, Robert Rauschenberg, Sérgio Camargo, Gustav Metzger, Takis and Mark Boyle. Perry became house photographer for the legendary Signals Gallery, producing images for the iconic Signals Newsbulletin that provided an international forum for artists, writers and poets involved in experimental art.
JUDY CLARK, a pioneering Feminist British artist, was interested in classification and taxonomy, and used a formalistic, almost scientific approach to make her point, with the results in tune with international Minimalism. Her infamous exhibition Issues in 1973 concentrated on the (mostly female) body and its traces and her interest in 'the potential for power that residual body matter can acquire'. HANNAH O'SHEA is a British artist, performer and filmmaker who began working with performance and multimedia in 1972, becoming an active Feminist and founder member of the Women Artists' Collective. Another feminist artist featured is TINA KEANE, who has been internationally acclaimed for working influentially and innovatively with film, photography, digital technologies and installation.