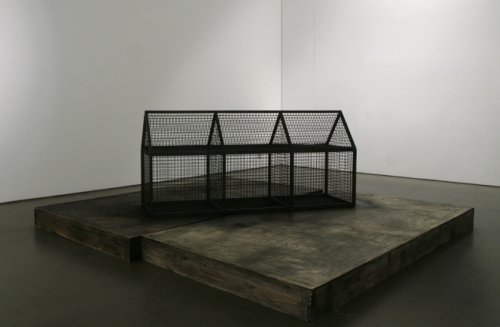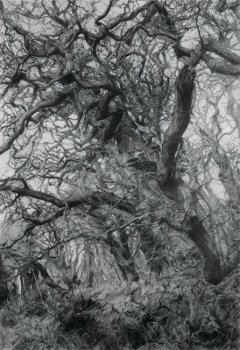 Seasonal Drawing (February), 2009.
In the Gallery
3–27 October 2009
Stuart Brisley
STUART BRISLEY's radical practice over four decades has played a fundamental part in the development of installation and performance art in Britain. He has been at the forefront of experimentation and political debate within the visual arts – performance artist, painter, writer, Professor at the Slade School of Art – with an enduring influence on many of the present generation of younger British artists.
At the centre of Brisley's diverse practice lies his exploration of the essential qualities of what it means to be human. He has challenged the human body in physical, psychological and emotional ways, first obtaining notoriety in the 1960s and 70s for his disturbing physical performances. His performance, 12 Days, at the Kunst Forum, Rottweil, Germany in 1975, is evidenced in this exhibition by a series of photographic sequences taken throughout the event as a structure is built, inhabited and destroyed over the duration of 12 days. This photographic sequence relates Brisley's performance works to his sculpture and brings into focus his long-standing links with continental Europe.
The major work in this exhibition is the new installation of Bloody House, which incorporates a metal structure that has been shown several times before in different circumstances. When the structure was exhibited at St Pancras Station in 1992, accompanied by a text-work by Maya Balcioglu, the focus was on 'the rootless condition of society and the resultant consequences for those without roots'. However, this new incarnation of Bloody House explores the lot of those who do have a home and apparent place in society.
Bloody House evokes events that may take place inside a suburban family house: it refers to unspecified tragedies of domestic violence, sexual molestation, and entrapment. The 'house' contains the secrets of what lies beneath the assumed conventions of social behaviour, and is also the focus of the hollow dreams of its inhabitants as they make their way back from labouring in the city. This notion of the 'house', conventionally thought of as a retreat and place of refuge, shows it to be instead a place of potential danger. Bloody House also serves as a political symbol of other 'houses' that also have secrets hidden beneath their exterior façades, from the Houses of Parliament to the House of Windsor.
Brisley has used 'cages' in his work since his neon structures of the late 1960s, and physically broke in to one in an early performance. In his assemblage sculpture 1=666,666 (1983), he displayed 66 found gloves filled with plaster in a cage structure (each glove represented 66,666 unemployed people, and sixty-six times this number was the rate of unemployment in Britain at the time). Nul Comma Nul, an installation from 1984 (now in the collection of Tate, London), was shown in the Orwell-inspired exhibition 1984 at Camden Arts Centre. In this work, Brisley combined a cage with light and discarded clothing to convey the all-encompassing nature of ideology and the claustrophobia caused by the lack of social space in the author's dystopian vision.
Brisley's solo exhibition at the Serpentine Gallery in 1987 included a row of large images of the IRA activist Mairéad Farrell during the 'Dirty Protests' in Armagh prison in the early 1980s – these were displayed behind a forbidding metal grille or cage which immediately suggested connotations of imprisonment and surveillance. This installation, one of Brisley's most potent political works, has resonated over the years in the work of younger artists such as his former student at the Slade, Mona Hatoum, who has also used cage structures to create political and psychic boundaries, and questioned the sense of safety and comfort assumed implicit in the concept of 'home'. As Richard Gott wrote in 1996: 'Homage to Brisley's performances and installations, references to his work, can be found in many unexpected places and in the work of other artists.'
Brisley sees cages as psychological spaces, and Bloody House centres on a menacing cage-like structure with no solid walls – it is contained, but can be permeated by the outside. It sits on a dais that is split in to two sections creating a chasm implying the insecurity that lies beneath the house. The French/American artist Louise Bourgeois has also used the 'cage' as a psychological metaphor for the terrors dormant in the family home – in Cell (Choisy) (1990–93), the first of her series of large cages, she placed a model of her childhood home in a metal chain-link cage with a threatening guillotine suspended above the entrance.
In Brisley's exhibition here, Bloody House is surrounded by a group of dramatic, highly detailed pencil drawings from nature. In these recent drawings of 'nature coming at you', Brisley confronts nature as 'being the most powerful force… we are all subject to it'. The drawings show the effect of nature on itself, with trees fighting the wind – the suburban Bloody House is surrounded by nature in the raw.
Brisley has always literally pushed himself, both in his performances and in works of great concentration such as these recent drawings. Endurance can be seen as a leitmotif throughout Brisley's career, from his challenging performances to his recent intensely rendered drawings and paintings.
Artist's page >
Stuart Brisley at the Serpentine
Poetry Mararthon > 
England & Co exhibited other works by Stuart Brisley at Zoo Art Fair recently, including screening the films Cut Lausanne, from his performance earlier this year at the Performance Saga Festival, Lausanne, and Arbeit Macht Frei from 1973.