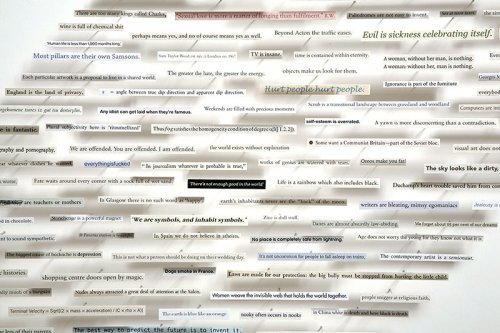 Suddenly everything is erotic (detail), 2013 
Chris Kenny
12 November – 7 December 2013 
In his recent series of collage-constructions, British artist Chris Kenny re-imagines elements of 20th century art using ephemeral found materials. He revisits subjects from the old masters and celebrates classic modernist form aiming "to make the transcendence and absolutism of the avant-garde more tangible, intimate and domestic".
Kenny reworks the tilting planes of classic Cubism in floating assemblages, each shape being a fragment of map. He re-enacts the Cubists' games of mixed graphic languages, cryptic labeling and ambiguous spatial relationships, and creates an expanding universe of geographical signs and suggestions, with target-like compositions echoing the work of Kenneth Noland or Jasper Johns. In Kenny's map-works, cartographic symbols jostle for superiority as "they proclaim the significance of their little patch of the earth".
Another ongoing series of Kenny's cased, three-dimensional works incorporates text and typography, poetic cuttings assembled in a complex of different layers and levels. The horizontal greys and creams of the found printed fragments, echoed by their cast shadows, paraphrase the elegant minimalism of Agnes Martin or Sol Lewitt – but here there is a "maximalism of meaning" with stories formed from the sampling of many other stories; absurd or erudite aphorisms snatched from many different mouths; or collected bizarre and even sinister questions. In some of these works, the floating snippets of found text are composed in sloping ellipses that recall the anamorphic skull in Holbein's Ambassadors, an association made most explicit in Vanitas, an oblique inventory of ephemera.
Books have long been both source and subject for Chris Kenny. For many years, he has produced miniature books inspired by 'found' titles, most recently in a series of "Cubist Books" that draw from Picasso and Juan Gris.
Artists' attempt to envisage heaven on earth through painting landscape is explored in works comprising rows of little houses built from discarded amateur pictures of idealized Nature, their facades incised with large letters to spell out mythical paradises such as Arcadia and Elysium. In Kenny's vision, the houses "become little streets or queues, identities waiting patiently and dreaming".
Kenny was included in Slash: Paper Under the Knife at the Museum of Art & Design, New York (2009); made site-specific works for House of Words at Dr Johnson's House, London (2009); and was represented in Mappa Mundi at the Berardo Museum Foundation, Lisbon, Portugal (2011). This year, he exhibited several works in Mappamundi: Art et Cartographie, Hotel des Arts, Centre D'Art du Conseil General du Var, Toulon, curated by Guillaume Monsaingeon as part of the programme for Marseilles, European Capital of Culture 2013. Kenny has exhibited with England & Co for over a decade, and has also participated in many of the gallery's group exhibitions, including The Map Is Not the Territory series, Literary Constructs, Persistent Obsessions and City X. His current exhibitions include Telling Stories, Kaleidoscope Gallery, Kent; and First Cut, a touring exhibition arranged by Manchester Art Gallery.
Kenny's works have been reproduced in many magazines, exhibition catalogues, and books, including You are Here and The Map As Art: Contemporary Artists Explore Cartography, both published by Princeton Architectural Press, USA.
Public collections that have acquired his works include the Museum of London; the Victoria and Albert Museum; the British Museum; and Hôtel des Arts, Centre d'Art du Conseil General du Var, Toulon.