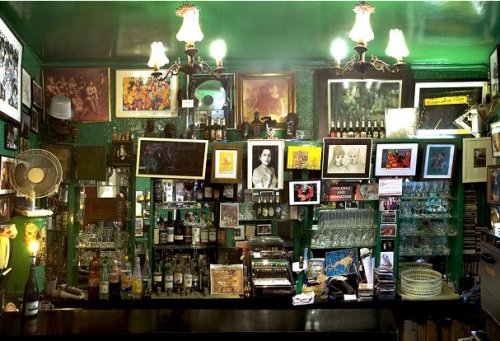 Artists of the Colony Room (1948-2008)
12 December 2013–11 January 2014 

The Colony Room Club opened its doors for the first time just before Christmas in 1948, so it seems appropriate that this exhibition of works by some of the many artists who frequented the club opens at the same time of year as a kind of antidote to 'Christmas' exhibitions. The Colony Room was an infamous Soho private drinking club that developed its bohemian and colourful clientele over six decades. Opened by Muriel Belcher, she ran it in her own inimitable and outrageously outspoken style until her death in 1979. The club continued under her long-term barman Ian Board until his death in 1994 before passing in turn to his barman, Michael Wojas, who had been employed at the Club since 1981. In 2008, the club was forced to close when the lease on its first floor Dean Street premises finally expired, and its loss was mourned by its loyal devotees.
Francis Bacon, a founding member, described the Colony as "a place where you could always be yourself… An oasis where the inhibitions of class and sex are dissolved". George Melly recalled that in its early period, "the Colony Room was the nearest thing to a Paris cafe this bleak city could offer since the great days of The Cafe Royal." When it finally closed, Sebastian Horsley eulogized the Colony as "a vibrant, unique and historical drinking den for artists, writers, musicians, actors and their acolytes… a living work of art'.
In its later years – during a second flowering in the 1990s – Gavin Turk described how "the Colony was the only place where you could be an artist and freely talk about art and not seem abnormal. So the Colony became full of these radical contemporary characters." Damien Hirst wryly suggested that artists had liked the Colony "because artists like drinking".
Sophie Parkin, writer and artist, first went to the Colony in 1975 with her mother Molly who had been a member since the 1950's. Sophie became a member of the club in 1979, her membership a gift for her 18th birthday while she was studying at St Martins School of Art in nearby Charing Cross Road. She frequented the Colony throughout the years until its final closing, and her recent book, The Colony Room Club 1948–2008, was described in the Sunday Times as 'a love letter to a lost world of British bohemianism'. To celebrate the latest edition of her book, she suggested that England & Co host an exhibition with works by some of the artists who were habitués of the Colony Room from the late 1940s until the club closed in 2008. Sophie is also in the process of planning a new West End club in which she intends to continue the Colony Room's louche, but creative tradition.
Parkin says that "in 1982 my father, Michael Parkin, put on a pioneering show, Artists of The Colony Room: it was the first exhibition to bring together the artists who drank there from 1948 up until the 1980's and link them with the Colony, thus making it an 'artist's club' as opposed to a journalists one. I am so pleased that England & Co are contributing to the story of the art made by artists who were members of the Colony, with this idiosyncratic selection of works by artists associated with the club spanning sixty years of Modern British Art."
Exhibition of works, photographs and ephemera by and/or relating to artists and personalities associated with the club, including: Francis Bacon, Chris Battye, Muriel Belcher, Paul Benney, Bruce Bernard, James Birch, Peter Blake, Ian Board, Michael Clark, Robert Colquhoun, Daren Coffield, Joshua Compston, John Deakin, Harry Diamond, Cordelia Donahue, John Dunbar, Craig Easton, Angus Fairhurst, Dan Farson, Barry Flanagan, Nina Fowler, Robert Frame, Brian Griffin, Nina Hamnett, Damien Hirst, Bill Hopkins, Sebastian Horsley, Michael Horovitz, Patrick Hughes, Wilma Johnson, Jay Landesman, Abigil Lane, Sarah Lucas, Robert MacBryde, David Medalla, George Melly, Rodrigo Moynihan, Arthur Moyse, Jeff Nuttall, Eduardo Paolozzi, Molly Parkin, Sir Franci Rose, Suzanne Treister, Gavin Turk, Keith Vaughan, Gerald Wilde, Jane & Louise Wilson, Michael Wishart, Michael Wojas, Michael Woods…