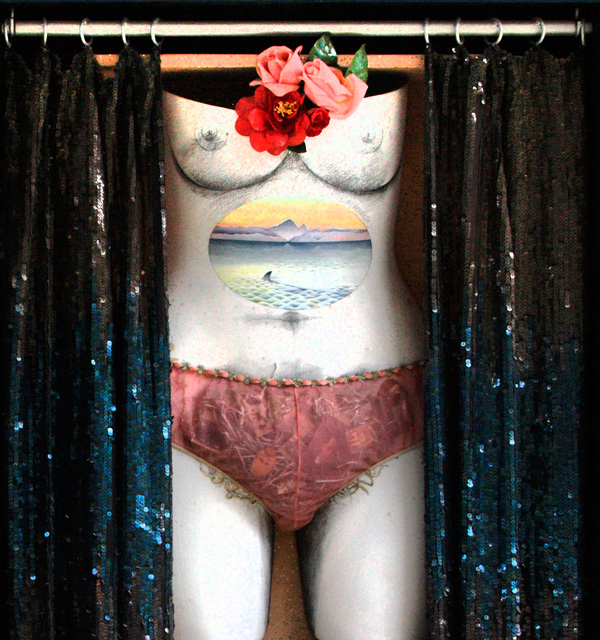 This exhibition of works by Jo Bondy curated by England & Co was held in a temporary project space in Bloomsbury. Works can be viewed by appointment in London by contacting England & Co: info@englandgallery.com
JO BONDY (1937-2015)
Pandora's Box: Assemblages, Box-works and Ceramics from the 1960s & 1970s
2–7 November 2017 
During the peak era of Pop Art in the 1960s into the 1970s, British artist Jo Bondy produced a substantial body of assemblage sculptures, sculptural box-works, drawings and ceramics that primarily explored gender, sex, and eroticism. Bondy died in 2015, and this collection of forgotten works from her Pop Art years was inherited by one of her former students, who has liaised with England & Co to hold this introductory exhibition to her work.
Bondy spent much of her life as an art teacher and artist, but can be described as one of very few British women Pop artists. Like other women artists of the British Pop Art era, she was never acknowledged in art historical narratives of the movement – even women artists who had received far more attention and success in 1960s London, such as Jann Haworth and Pauline Boty, were also neglected in the official histories of Pop Art, and left out of the Royal Academy's 1991 survey of Pop Art. Although women's bodies were often objectified or featured in Pop Art, the work of actual women artists operating in that sphere was rarely acknowledged and, in fact, was usually marginalized and excluded. It is only in recent years that some of these female artists are receiving varied degrees of attention and reassessment within both feminist studies and revisionist art histories.
Like many women artists working at that time, Bondy's works often implied her awareness of the feminist movement and of the practice of other women artists. She made works that explored women's sexuality and made reference to women's 'roles' in society using her own, often explicit, sometimes even ribald, iconography. Her works, with their female subjectivity and overtones of Surrealism, could sometimes be apparently humorous in mood, but there was usually an undercurrent that could occasionally be disturbing.
Bondy herself revealed very little about her motivations or the background for these works, but when looking at some examples, such as her unexpectedly savage Hunter's Box (1976), it is hard to avoid speculating about whether she had encountered or experienced some of the misogyny that permeated much of society in the 1960s and 1970s. When Hunter's Box is opened it reveals a shocking interior iconography of a fox's brush with a naked, blood-stained female figure hidden within the ostensibly playful carapace of an upright wooden hobby horse. Bondy understatedly commented that her boxes "exist mainly in the shut state, as the surprise element of opening up is an essential part of its function". When opened, Hunter's Box revealed itself as a double-edged protest: a critique of the cruelty of hunting, and a protest about violence against women.
Often Bondy's constructions and boxes were imbued with a sense of nostalgia through her use of found objects and memorabilia. Some of her assemblages, such as Souvenir Box for a Sovereign (1975) have an affinity with the work of Peter Blake, the renowned figure of Pop Art in Britain, who has a great love of popular culture and artefacts and who pioneered this post-Joseph Cornell use of evocative collections of items, images and recycled materials.
Many of Bondy's sculptural works were proceeded by exquisite, finely-detailed small pencil studies:  a group of these studies and other erotic, Surrealist drawings are included in this exhibition.  Her ceramic works were usually more abstract and used suggestive, sensual forms. Bondy's use of female sexual imagery was in tune with a then prevailing current of feminist artists 'reclaiming' their bodies and asserting a positive female sexuality through their work. Bondy was  aware of the works of feminist American artists such as Judy Chicago, who used such imagery as "a metaphor for an assertive female sexuality".
As the critic and curator Kim Levin wrote in an Art News article on women Pop artists, "Pop Art in the hands and minds of women artists is intricately linked to the rise of feminist art, political and sociological art, art that involves decoration and craft and female sexuality…".
Text by Jane England