\'My life as a naked artist\': Grayson Perry on being a Neo Naturist
20 June 2007
Grayson Perry writing in The Times  today recalls his experiences with the Neo Naturists, currently celebrated in their exhibition at England & Co, The Neo Naturists.
11 June–19 July 2007
Works by Vito Drago, Alberto Duman, Chris Kenny and Jason Wallis-Johnson are currently on view in Anytown, an exhibition exploring the urban environment through the eyes of artists, photographers and designers from across four continents. At Mascalls Gallery in Kent.
Alberto Duman and Georgia Russell in V&A collection
May 2007
The Victoria and Albert Museum, London has acquired one of Alberto Duman's screenprints from his English International Images series: View of Braziers Park, Ibsden, near Wallingford.
The Museum has also acquired a second work by Gallery artist Georgia Russell, Britain: March 2003 (Britain on Iraq). The Museum already owns a cut-book work from her series Clans and Tartans of Scotland.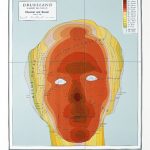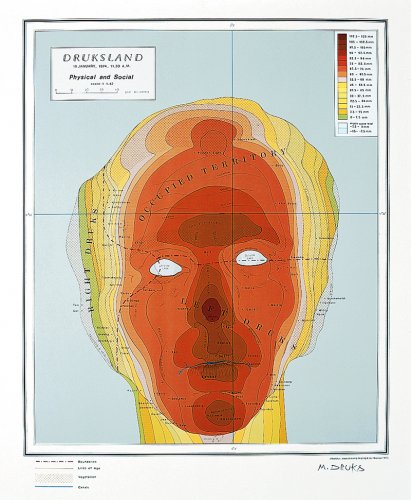 Druksland Physical and Social acquired by V&A
May 2007
England & Co have sold an example of Michael Druks's iconic image, Druksland Physical and Social 15 January 1974, 11.30am to the Print Collection of the Victoria and Albert Museum, London. This image was featured in England & Co's exhibitions The Map Is Not the Territory ii and iii.
Another example from the series is included in the artist's major retrospective exhibition Michael Druks: Travels in Druksland at the Museum of Art, Ein Harod, Israel (May–August 2007).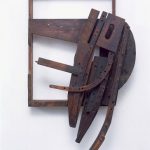 Stuart Brisley sculpture acquired for Leeds Museum
March 2007
The Henry Moore Institute, Leeds Museums & Galleries (with assistance from the Art Fund) has acquired Stuart Brisley's Untitled wall relief, c1962-63 from the recent exhibition at England & Co: Stuart Brisley: Works 1958-2006. This assemblage "is a pivotal early work marking the artist's transition in the early 1960s from collage and relief into three-dimensional sculpture using found objects and rubbish."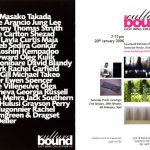 Four England & Co artists Culture Bound at the Courtauld Institute
April 2006
Works by four Gallery artists – Chris Kenny, Georgia Russell, Vito Drago and Jason Wallis-Johnson – can be seen in the Courtauld Institute of Art's East Wing Collection VII. This biennial exhibition is curated by a committee of Courtauld students and displayed in the Institute's East Wing in Somerset House, London. England & Co sponsored the production of an artist's map designed and hand-drawn by Jason Wallis-Johnson as a guide for visitors to find their way through the warren of rooms and staircases in the East Wing and to discover where individual works are to be found.
East Wing Collection VII is entitled Culture Bound and showcases the works of 39 contemporary artists. Culture Bound, write the curators, was born out of the premise that we are all essentially restricted within a specific and evolving cultural experience. The exhibition explores the ways in which contemporary art can prompt a reconsideration of cultural boundaries.