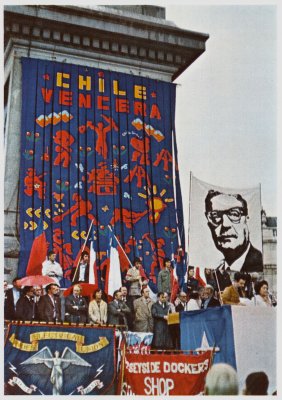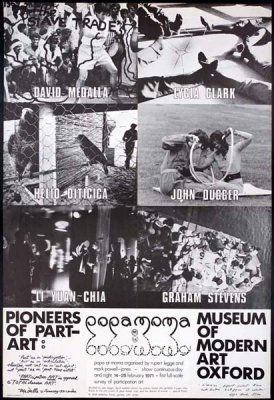 7–10 June 2012 
PINTA
The Modern & Contemporary Latin American Art Show Earls Court Exhibition Centre, London
Exhibiting artists: John Dugger, Cecilia Vicuña, aruma–Sandra de Berduccy, Clay Perry
England & Co's stand at Pinta concentrates on works and archival material relating to Latin American art in London and Europe in the 1960s and 1970s.
American artist John Dugger's imposing Chile Vencera banner, first displayed in Trafalgar Square at the Rally for Democracy in Chile in 1974, will be installed at Earl's Court, and he and aruma (Sandra de Berduccy) will both be 'in conversation' on Saturday 9 June as part of the public programme at Pinta.
England & Co are working in association with Escala – The Essex Collection of Art from Latin America – to organize a performance and talks to complement the gallery's display of works and archival material.
There is a particular focus on the events that took place in London in 1974 in support of the Chilean democracy movement, together with other works by John Dugger from the 1970s, including his Perennial sculpture multiples. Works from the 1970s by the Chilean artist, Cecilia Vicuña include some of her Palabrarmas – works from her poetic system where words open up to reveal their inner metaphors, and also a textile work made in collaboration with John Dugger.
Also exhibited are historic photographs taken by Clay Perry in the late 1960s of Latin American artists and their exhibitions at London's avant-garde Signals Gallery. Contemporary works by aruma (Sandra de Berduccy) will be exhibited to complement her performance at Pinta.
The works of Dugger, Vicuna and aruma often incorporate a variety of uses of textile materials, relating it in individual, but complementary ways to ideas about culture, protest, and identity. The concept of 'Participation' is another aspect of their work, particularly that of Dugger and Vicuna, that provides a link between these artists.
Pinta is held at the Earls Court Exhibition Centre.
Additional information about the performance by aruma – Sandra de Berduccy:
aruma – Sandra de Berduccy – is a Bolivian artist born in 1976, whose works use techniques and traditional Andean textile processes in diverse mediums including photography, video art, performances and site-specific installations. Her performance using the interaction of visual and sound sources – 'si me permiten hablar' ('if I may speak') – will take place on Saturday 9 June at Pinta.