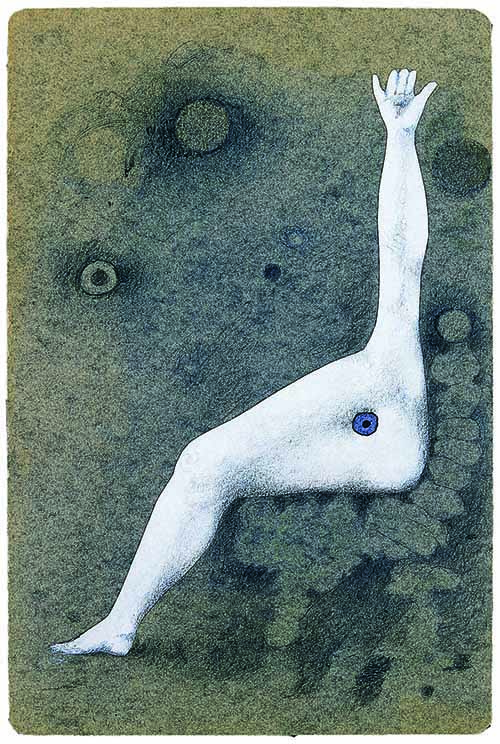 ROLF BRANDT (1906-1986): Retrospective Exhibition
10 March – 10 April 2004
The artist and illustrator Rolf Brandt influenced generations of students when he taught at the London College of Printing in the 1950s through to the 1970s. The brother of photographer Bill Brandt, Rolf, although less known, was a distinguished artist in his own right. His career as an artist encompassed his early surrealist paintings and drawings; haunting drawings and illustrations of the 1930s and \'40s; subtle and sophisticated abstract paintings of the 1950s; witty and inventive drawings and collages of the 1960s and \'70s; and his final major series of works – the painted wooden constructions exploring colour theory and optical art made in the 1960s and \'70s.
This retrospective exhibition coincides with the opening of the major Bill Brandt exhibition in the Photography Gallery at the Victoria and Albert Museum, Bill Brandt: A Centenary Exhibition. An accompanying exhibition, Other Sides of Bill Brandt in the Photography Gallery at the V & A includes an album of Rolf Brandt's collages and drawings of the 1920s and 1930s from the museum's collection.
Rolf Brandt died in 1986, and there has been no opportunity to see his work since Apparitions, an exhibition of his drawings and illustrations organised by the South Bank Centre at the Royal Festival Hall in 1988. England & Co is delighted to be able to be able to present the first retrospective exhibition of Rolf Brandt that includes works from all periods of his career.
The Brandt brothers were born two years apart, Rolf in 1906 and Bill in 1904, and were to remain close throughout their lives. There was a real affinity between them – in tastes and interests, in their friendships and influences. Although born in Germany, the brothers had British citizenship through their family, and both came to live permanently in England in the mid-1930s.
Rolf was a professional actor, but in the 1920s became interested in Dada and Surrealism, making drawings and collages in his spare time. When Bill Brandt worked in Man Ray's Paris studio in 1930, he too became absorbed by Surrealism, which was to remain a potent influence on them both. The spirit of subversive experiment and element of dream-like atmosphere was Rolf's heritage from the Surrealists; and in 1929 he was drawn into the orbit of the Bauhaus when he lived in Dessau and visited Paul Klee's studio. Klee also became a significant influence, alongside the Bauhaus free spirit of innovation.
In London the Brandt brothers were part of an intellectual and artistic milieu in Hampstead in the late 1930s and \'40s. They shared friendships and interests, and moved away from their German background. Rolf continued to work as an actor, attending drawing classes in London with Ozenfant, and in Paris with Paul Colin, before making the decision to leave the stage and draw professionally. His drawings were first published in the early 1940s and, as R.A. Brandt, he established a reputation for his quietly haunting illustrations and delicate pencil drawings with an elusive, often eerie quality. He captured the essence of the stories he illustrated, adding his own distinct nuance and atmosphere – his drawings were once described as "absurd as dreams and as mysterious".
Rolf Brandt had a very European sensibility, and in the 1950s and early 1960s was increasingly drawn to the subtle abstraction of French artists such as Jules Bissier, and the geometric abstraction and optical art of Victor Vasarely. Brandt concentrated in that period on painting and began to make wooden constructions that culminated with his colourful painted 'slat' constructions. He exhibited rarely and the last significant exhibition in his lifetime was at the Lisson Gallery in 1970.