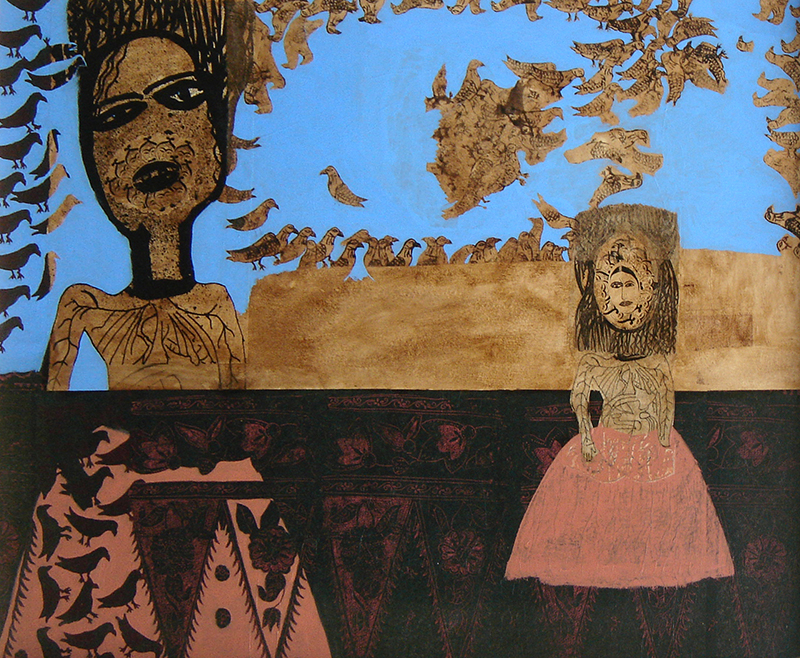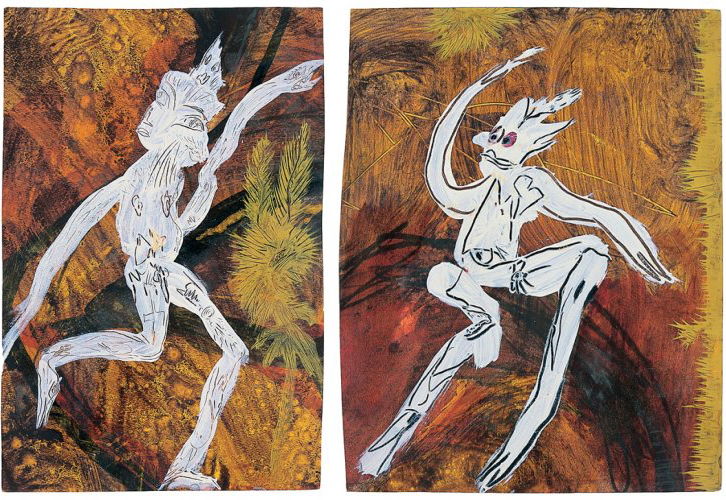 Two Artists from Iran: Samira Abbassy & Christine Khondji
22 July–21 August 2004
This exhibition brings together the work of two very different artists who were both born in Iran, but have spent most of their lives in the West.
Samira Abbassy was born in Iran in 1965 and moved to Britain with her family in 1967. She studied painting in England and exhibited extensively in London before moving to New York in 1998. Abbassy's work reflects her cross-cultural heritage: she draws on the visual traditions of both Middle Eastern and Western art, although remaining firmly rooted in the fact that she belongs to both cultures. She sees herself as excavating through layers of often contradictory cultural identities, which she brings together through the universal themes which recur in her work.
Self-portraiture is a strong motif in many recent works and she says that "although there are elements of autobiography, the figure should be viewed as an archetype rather than a literal attempt at depicting myself. It's as though I'm depicting myself from the inside out, starting with how it feels to be me, or more to the point, how it feels to be human."
Often Abbassy's figures are shown as if they had been x-rayed, revealing the anatomical and biological reality of their interiors and leading the viewer to read the figures as "psychic maps". She has used a 17th-century Persian manuscript of anatomical drawings as reference – the philosophers of the Islamic Enlightenment evolved a numerical symbolism of parts of the human body that corresponded with various areas of the cosmos, and their political thinkers used the symbolism of the human anatomy to explain their theories of human society. Abbassy has also made reference to 17th-century Indian Tantric paintings depicting the chakra system, another example of an internal system which incorporates physical and non-physical reality. Sometimes her figures develop into animal forms to become mythological creatures such as a Harpy, although they remain somehow very human.
Christine Khondji was born in 1947 in a French-Iranian family, and spent her childhood in Iran. She later went to school in France and studied Archaeology in Paris. She lived for many years in London before moving to Paris, and now spends most of her time in either France or India. She has led a nomadic life and has exhibited her work in Alexandria, Paris, Istanbul and London, most recently at the Welcome Trust Gallery at the Science Museum in the exhibition Metamorphing: Transformation in Science, Art and Mythology.
Khondji's main interest is in prehistory, and she has visited many caves and ancient sites in Europe and Africa. This research led to a fascination with shamanism and the world of the spirits, interests which have had a major effect on her work. Khondji says that her paintings come to her in a shamanistic way from her inner consciousness, and are linked to her long practice and training in yoga and somatic techniques – she says that what "ties me to painting is a path… leading through the body to something else". As a child she drew continuously: "they were like the images you make out in flames." She says of her pictures: "they flow from my fingers, craving to dance on paper. They take me by surprise, make me burst into laughter. They are the Djinns, the Dives, the nomadic spirits of my childhood in Iran."