The Map Is Not the Territory i
The first of three exhibitions curated by Jane England 
14 July—1 September 2001
The statement 'we need new maps if we are going to make sense of the world' may seem obvious, but the artist-explorer, creating 'new maps', can take us on a journey that informs the way that we encounter and translate the world. Works by over thirty artists, ranging from the established to emerging young contemporaries, using maps and mapping both literally and conceptually, reflect the ever increasing globalisation of culture.
The title of the exhibition is taken from a phrase that has become associated with the British artist Ralph Rumney. The book of the same title by Alan Woods will be available during the exhibition, presenting a figure whose career intersected with the main currents of the post-war European avant-garde. Rumney will be represented by original publications of The Leaning Tower of Venice. This illustrated essay on psychogeography, the theory and practice of drifting through an urban environment, is a Situationist approach to mapping an unplanned wander through the streets of Venice.
Susan Hiller will be represented by Street Ceremonies, a work made in North Kensington in 1973 and not previously exhibited. Other works include Cornelia Parker's multiple Meteorite Lands on Wormwood Scrubs, Chris Kenny's Fetish Map of London, Jo Kent's obsessively inscribed text-maps of Venice, and Adrian Bannon's Island with its affinities to Arte Povera. In Conceptual Relationships No.3, Stephen Willats maps objects on a desk-top to contrast associative realms of meaning. Langlands & Bell's Air Routes of Britain are 'a mile-high state of permanent flux frozen in time'.
Italy-based Rebecca Forster engraves zinc wall-sculptures with maps inspired by archaeology, and Joanne Berry's Lightbox Drawing charts imaginary galaxies with light. Jane Bush makes collages with maps that exploit the intrinsic beauty of her found materials, while Layla Curtis collages and dissects to create a new hybrid political wall map. Jason Wallis-Johnson re-configures islands and towns using data from population statistics to set them against each other in imaginary conflicts. Allan Mitelman makes delicate interventions and marks on arbitrary sections of maps, and Geoffrey Fisher re-forms maps into geometric structures. Michael Druks uses geography as an international coded language, and Jonathan Callan's punched books are observations on materiality and process.
Microscopic inner worlds are mapped in paint by Peter Bunting; and artist and film-maker Peter Greenaway will be exhibiting four works from his A Walk Through H series in which 'the traveller created the territory as he walked through it'.
England & Co, 2001
Illustrated catalogue – out of print.
The Map Is Not the Territory ii
The Map Is Not the Territory iii >
The Map Is Not the Territory Revisited >
'Taken from the title of a new book on the veteran British artist Ralph Rumney, this freewheeling show embraces works by more than 30 artists. Cornelia Parker sets the outlandish tone with Meteorite Lands on Wormwood Scrubs… '
Richard Cork, The Times, August 2001
'Forty artists – including Peter Greenaway, Langlands & Bell, Cornelia Parker, Kathy Prendergast – spin ingenious and meticulous variations on map-making.'
John McEwen, The Sunday Telegraph, August 2001
'… there are new maps of every kind in this map-themed group show. Maps that turn the political world upside down, maps of human faces, maps of concepts, maps of long forgotten journeys. Some are beautiful, many attractive, a few banal and a few plain silly… Ralph Rumney, also at home with the ridiculous, being England's leading Situationist, presents a 'psychogeographic' map of Venice made in the Fifties… a local flavour is provided by Susan Hiller's Street Ceremonies, which was a choreographed event that took place in the Seventies around Portobello Road, but is represented here by paraphanalia from the event… Mateusz Fahrenholz presents some of the most straightforward, but poignant pieces in the show… the gentlest of reminders of the massive flows of people that crossed the earth in search of a better life. Elsewhere Cornelia Parker, Peter Greenaway and Langlands & Bell also make their contributions to a show that doesn't quite undermine one's faith in the objective truth of maps and map making, but gives it a shake… .'
Nick Hackworth, Evening Standard, 30 July 2001
'…overall this has a strong theme, a rich variety of artists and a very good, affordable catalogue… this exhibition is fresh and intelligent. It will probably send you off to the British Library to see their extensive historic map collection.'
Jim Healey, What's On, August 2001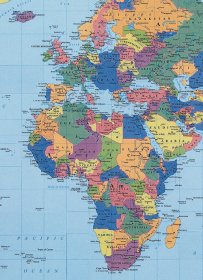 Layla Curtis: World Political Wall Map 
(detail), 2000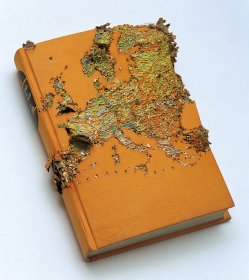 Jonathan Callan: Europe in the Road Past
Mandalay, 2001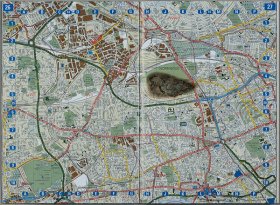 Cornelia Parker: Meteorite Lands on Wormwood Scrubs, 2000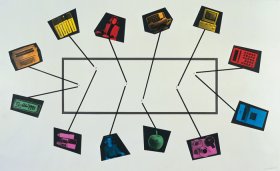 Stephen Willats: Contemporary Relationships No.3, 1987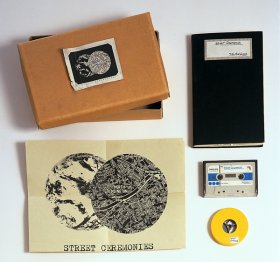 Susan Hiller: Street Ceremonies, 1973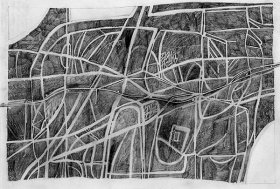 Peter Greenaway: A Walk Through H: Cross Route, 1976-78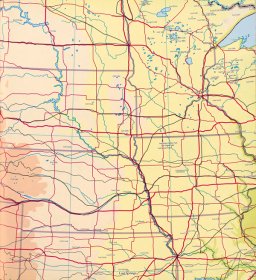 Kathy Prendergast: Lost 1999 (detail)