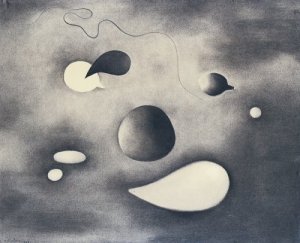 Wandering Lines: Automatic Drawing to Abstraction
20th & 21st Century Drawings
8–31 April 2011 
The exhibition private view (Wednesday 13 April, 6–8.30 pm) features a drawing performance event by Harald Smykla to mark the publication by England & Co of a monograph documenting his work.
"…when I looked at the earth I saw all the lines of cubism made at a time when not any painter had ever gone up in an airplane. I saw there on the earth the mingling lines of Picasso, coming and going, developing and destroying themselves, I saw the wandering lines of Masson…" Gertrude Stein, writing after making her first airplane flight in the 1930s
The exhibition includes works by: Maliheh Afnan, John Banting, Jack Bilbo, Barbara & Zafer Baran, Rolf Brandt, Michael Buhler, Patrick Caulfield, Henry Cliffe, Elisabeth Collins, Michael Druks, John Dugger, Rebecca Forster, John Furnival, Madge Gill, William Green, Heinz Henghes, Albert Herbert, Roger Hilton, Linda Karshan, Jo Kent, Christine Khondji, RB Kitaj, James Lancaster, Jeanne Masoero, Conroy Maddox, André Masson, John Melville, Alastair  Morton, Sean (Farouq) Molloy, Richard Nie,Valerie Potter, Ralph Rumney, Geneviève Seillé, Colin Self, Harald Smykla, N.H. Stubbing, Ionel Talpazan, William Turnbull, Paule Vézelay, Jason Wallis-Johnson, Scottie Wilson.