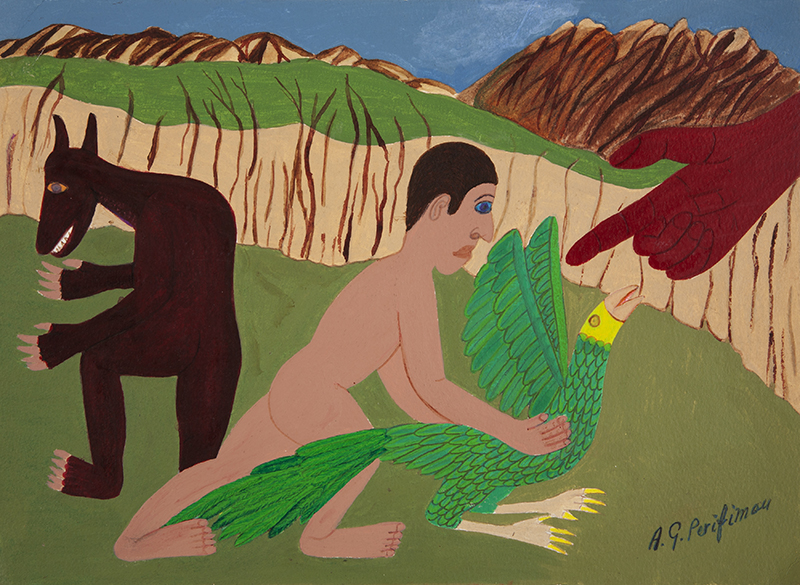 PRESS RELEASE
Perifimou (1916–2001)
England & Co at the Sotheran's Building, 2A Sackville Street, Piccadilly, London W1S 3DP.
14 September – 2 October 2023
Mon–Fri, 11am–5pm
PERIFIMOU (Alexander Georgiou) was born in 1916 in rural Cyprus. He later adopted the name Perifimou (a variation of his father's nickname, informally translated as 'the famous one') when he began to receive attention as an artist.
The Georgiou family were poor and hardworking, and although Perifimou had a happy childhood as one of twelve children, he received little formal education: by the age of eleven he was helping on the land before being apprenticed to a blacksmith.
In 1935, Perifimou emigrated to Britain where he worked as a chef and as a tailor until the Second World War, when he went on to serve in North Africa, Italy and Malta. Subsequent years of ill health on his return prevented him from resuming his pre-war careers as he often had to spend time in hospital. It was not until 1973 that he was able to resume working when he was recommended by the British Legion for a temporary post as a gallery attendant at the Royal Academy. He subsequently became a uniformed warden at the Tate Gallery when he was fifty-nine, a role he kept until he retired in 1981. To distract himself from the boredom of his job, he began to discreetly make simple sketches on small pieces of paper or card, works which he would then develop further when he was at home.
On a visit to Tate, the pioneering art dealer and curator Victor Musgrave spotted Perifimou with a drawing and introduced himself. Musgrave co-curated the 'Outsiders' exhibition at the Hayward Gallery in 1979 with Roger Cardinal, and founded the 'Outsider Archive' collection. Musgrave acquired works by Perifimou for the Archive, describing him as a 'visionary poet', and this collection is now held at the Whitworth Gallery at the University of Manchester.
Perifimou recalled years later that the only artist in Tate to have made a strong impression on him was William Blake. Like Blake, Perifimou created his own mythical, imaginative universe, with his initial simple sketches transformed into small colourful paintings and works on paper. He gave poetic titles to many of his works and referred sometimes to Greek mythology, often laughing as he wondered what inspired him to produce what he called 'such strange scenes'.
He said that he would 'find a subject' in one of his drawings, and 'out of that I make a story'. These works are flatly painted, with schematic naked human figures interacting with exotic, often oversized creatures and birds. His palette is colourful and the mood often joyful and harmonious, although sometimes his animals and fantastical birds appear to loom large and menace his acrobatic figures, suggesting that there is sometimes danger in Perifimou's dreamlike arcadia.
Works by Perifimou have been exhibited in several significant international exhibitions of art 'outside the mainstream', and in 2008, he was one of the artists chosen for the major exhibition of 'British Outsider Art' at Musée La Halle Saint Pierre in Paris. England & Co had the privilege of knowing Perifimou in his later years and including works by this self-taught visionary in two gallery exhibitions, 'Outsiders & Co' in 1996, and Obsessive Visions in 2001.
• This exhibition is accompanied by a display of Embroideries & Artist Books by Iranian-French artist Christine Khondji.