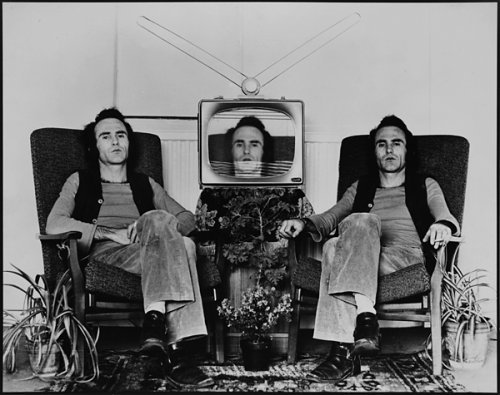 Beneath the Radar in 1970s London
Judy Clark, Michael Druks, Susan Hiller, Tina Keane, Liliane Lijn and David Medalla
10 November–2 December 2010
In the lower gallery project space, concurrent with John Dugger: Ergonic Messenger, there is a small exhibition of works by some of the artists of the avant garde in 1970s London. 
Beneath the Radar includes several works by Judy Clark from her Issue series: works that concentrated on the (mostly female) body and its traces. Although often labelled exclusively as feminist, Clark's works also focused on 'forensic science and the potential for power that residual body matter can acquire', as she pointed out in the entry accompanying her work in the Tate collection. In her work Bedroom Sites/Dust, Clark formally displays in a grid the circular dust filters she collected over a period of time from a vacuum cleaner used in her bedroom.
Michael Druks is represented by photographs and photo-montages from the period in which he explored concepts of identity and personality in space and time. As Kate Bush described in a review in Frieze in 2004, Druks' photographs 'capture the artist's attempt to cause real time to coincide with televisual time. In a series of playful scenarios figures on television are made to appear as if they are interacting with real objects in Druks' living-room – he shares a glass of wine and a cigar with a celebrity; in another a TV personality appears to be peeping from behind his bookcase.' In the photo-montage, Wish, Druks 'clones' himself seated in an armchair in slightly different poses while simultaneously appearing on the TV screen.
Susan Hiller is represented by her 1972 Proposal for an Aquarius New Age Intergalactic Typewriter. Hiller used strategies from Minimalism to apply a 'rational' framework to products of the unconscious, and the work in this exhibition presents a design for the keyboard for a typewriter for use in a 'New Age' based on the diagram for an old style Hermes model.
Liliane Lijn's prints from her 1971 series of screenprints: Industrial Landscapes explore what Lijn says was her fascination with 'the processes and images of industry, in particular the network of industry which creates and distributes electricity, the energy upon which our society is based. For many years I have felt that the forms of the energy industry, ie cooling towers, oil refineries, electrical transformers, were symbols related to our inner landscape.'
David Medalla's performance work, Porcelain Wedding, The Creation of Adam, is shown in Jane England's series of documentary photographs taken at the Artists' Meeting Place in Covent Garden in 1974. Medalla said recently in an interview with Gavin Jantjes, that this work was one of those that 'coincided with my Marxist period when I was looking at historical conditions more and more, because when I was in India I was horrified by the gap between poverty and wealth… I wanted to find out what were the historical conditions for this, and Marx was one of my best guides. I enjoyed reading him and Engels about the way societies create technologies, and the way technologies give birth to societies… I was thinking in terms of form and beauty and composition etc. So I started to do works based on things like the beginning of industrialisation or the beginning of pottery…'.
Tina Keane described the role of women in performance particularly as being 'more important in the development of feminist art than in any other media or area because it really cuts through'. Her work, She, was a multimedia performance at the Hayward Gallery, London in 1978: transparencies of neon signs, words of a short poem and shop windows were projected onto a wall and Keane used the area in front of the images to perform. At the same time a video camera recorded her image on to a monitor, reducing her movements and size, and as Keane has pointed out, 'bringing into play the actual and the recorded, the shop dummy, and the person, the illusion and the reality.' Her videos, She (1978) and Playpen (1979) are being screened during the exhibition, and are accompanied by a photographic contact sheet from She.