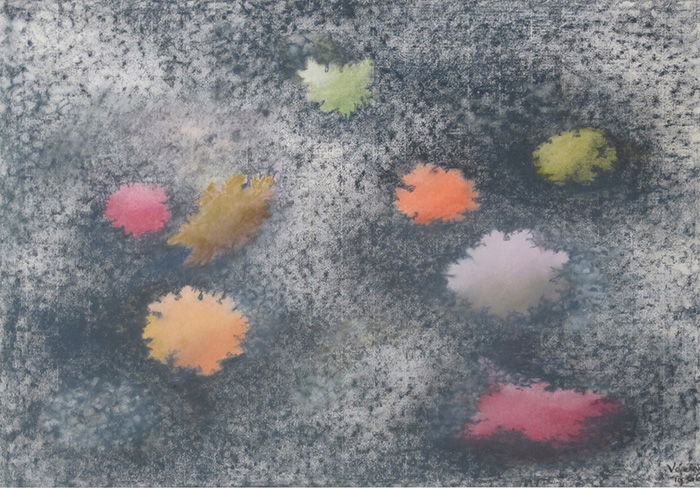 LONDON ART FAIR 2019
16-20 January 2019
Stand 27
England & Co's presentation at London Art Fair this year takes advantage of a redesigned central stand to incorporate a dedicated photography section. Photographs include a striking Surrealist image by Iraida Icaza; early prints by Bill Brandt from the 1930s and '40s; together with vintage prints from the 1970s by artist/photographers including John Francis Brown, Howard Selina, Barbara Baran, Carolyn Gowdy and Clay Perry.
Wilma Johnson's photograph, Neo Naturist, was taken in 1980 at the very beginning of the Neo Naturist movement – a performance-based live art practice that started in London in the early 1980s. The Neo Naturists performed naked except for body paint, and combined ideas of ancient rituals with contemporary life. Johnson's photograph has been published as an edition by England & Co with the artist, and complements two of her rare Maypole Series gouache paintings from 1982, which were included in the exhibitions Between Worlds: Rituals and Pagan Rites at England & Co, and The Neo Naturists at Studio Voltaire.
A group of abstract works on paper from the Estate of pioneering British abstract artist, Paule Vézelay (1892-1984) is a particular highlight. Vézelay's pure, refined drawings in graphite, charcoal or pastel demonstrate the "elegant purity" of her work as it was described by Michel Seuphor in the Dictionary of Abstract Art.
These abstract works are echoed by a minimal relief painting from 1960, Two Thin Reds, by Peter Stroud (1921-2012), from the same series as his similar work held in Tate's collection. This large panel has a richly painted surface contrasted with fine wooden strips in relief, in a process Stroud described as "activity-relief painting".
A significant work is a large-scale collage on canvas from 1962 by British artist Gwyther Irwin (1931-2008), unseen for more than forty years. Irwin's subtle form of making collage using discarded papers was half-way between painting and sculpture, and he described his process as "writing the pictures … Starting at the top left-hand corner I work along, adding individual ribbon-like unit to individual unit until I reach the right-hand edge. I then return to the left-hand edge and repeat the process until the bottom right-hand corner is reached, some 400 hours after beginning … I watch with wonder and excitement as the colours and marks, falling from my hand as if propelled by a source of guidance other than myself, slowly spread across the surface."
Irwin's collage is installed near a relatively small three-dimensional collage by Harry Thubron (1915-1985). Rosado (1982) comes from the period when Thubron was living between London and southern Spain where he collected found materials near his house in Andalusia that "had for him special qualities, vestiges and witness to countless generations of human occupation and the day to day activity of living." Many of Thubron's collage works from a retrospective exhibition in 2007 were acquired by Damian Hirst, who as a student had been aware of Thubron's robust experimentalist practice, and has stated that "in the beginning I did little collages, you know, like Harry Thubron".
Other works presented include a selection of iconic 1960s British screenprints such as Patrick Caulfield's first print, Ruins, and Jo Tilson's Lufbery and Rickenbacker, both from the notable portfolio organised by Richard Hamilton for the ICA and printed at Kelpra studios in 1964. Metal sculptures by two British sculptors from different generations, Ben Woodeson and William Pye contrast and celebrate their materials – Pye's use of chrome on his work from the 1960s and Woodeson's contemporary combination of cast iron, metallic glitter and glass.